As a kid growing up in Maryland, it was normal to me that schools close at the forecast of an inch or two of snow. I knew that it was a bit laughable compared with how the Midwest and Northeast handle snow, but it is the reality of winters in the Mid-Atlantic.
And I certainly wasn't complaining. Without exception, the dozen-plus snow days that I enjoyed as a child were joyous occasions. Mainly, I remember celebrating by drinking hot chocolate and going sledding with my brother at my grandma's house. I was a picky eater, so I probably ate my usual peanut butter and jelly sandwich with the crusts cut off for lunch.
But hearing that school is canceled due to weather does not bring joy to every child. In our 2012 national survey of teachers, "Hunger in Our Schools," one teacher in the Midwest told us, "The saddest are the children who cry when we get out early for a snow day because they won't get lunch."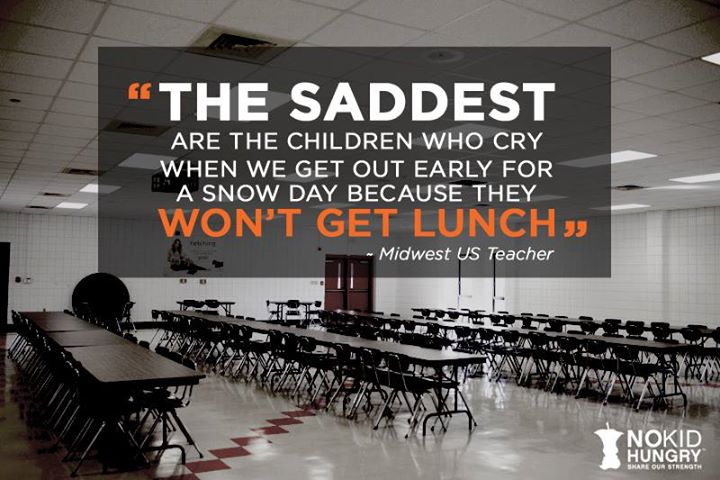 That's right – for the 21 million kids who rely on meals served at school as their primary source of nutrition, news of a snow day can bring tears. And while many districts serve lunch before an early dismissal to avoid this very problem, what happens when school is closed altogether, and for days at a time?
The short answer: some kids go hungry. Here in Maryland, we saw an extreme example during February 2010's "Snowmaggedon," the biggest storm in nearly 90 years which dropped more than 3 feet of snow in some areas of the Washington, DC metro region.
The Associated Press reported on the child hunger that resulted from schools' closure for a week, interviewing Marla Caplon, Director of Food and Nutrition for Montgomery County Public Schools and a No Kid Hungry champion, and several families in need:
The two snowstorms that pummeled the region, leaving more than 3 feet of snow in some areas, deprived tens of thousands of children from Virginia to Pennsylvania of the free or reduced-price school lunch that may be their only nutritious meal of the day. The non-profits that try to meet the need when school is not in session also closed their doors for much of the week, leaving many families looking at bare cupboards. And many parents working hourly jobs were unable to earn any money during the week, as the snow forced businesses to close.
In heroic fashion, Ms. Caplon arranged for local food bank Manna Food Center to bring boxes of food to two still-closed elementary schools. The school district notified parents of the distribution using the automated phone system, and approximately 200 grateful families came to pick up provisions:
Otto Tambito, a Fairfax County father of two, said his family burned through much of its savings during the week off from school and work. Tambito works as a window cleaner and an electrician, but was unable to travel to jobs. His wife, who cleans houses for a living, was in the same boat.
"We hope that thing melts down and we start again," he said.
Maritza Hernandez, a 32-year-old mother who came to pick up food Friday, said her usual baby-sitting income dried up during the snow days, and her husband had no work either. The couple and their 5-year-old son survived all week on beans, tortillas and the occasional egg, she said.
"We were sad that we didn't have enough to go shopping," she said.
Of course, child hunger during time off from school is not a new a concern. The Maryland No Kid Hungry Campaign's office in Baltimore has been humming lately with planning meetings for innovative new ways to distribute meals to kids this summer.
Unlike summer, snow days are unscheduled – part of what can make them so exciting. Please, the next time you find yourself celebrating a snow day, take a moment to think about who doesn't benefit – then pledge to end childhood hunger at www.NoKidHungry.org.