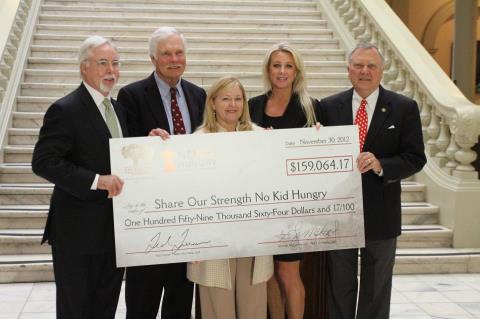 Share Our Strength was founded and the name penned by founder and CEO, Billy Shore and his sister and co-founder Debbie Shore more than 25 years ago. Since that time, Billy has often been quoted saying that, "Everyone has a strength to share in the fight to end childhood hunger in America". On Friday, November 30 this was evident inside the Georgia State Capitol as Executives from Ted's Montana Grill presented a check to Share Our Strength in the amount of $159,064.17 and in the presence of Georgia Governor and supporter of No Kid Hungry, Nathan Deal. It was a proud moment for Chairman Ted Turner, co-founder and CEO George McKerrow, Jr. and President of Ted's Montana Grill Kristi Nyhoff, to have the support of Governor Nathan Deal and thousands of employees and customers that support their work to raise funds and visibility of the No Kid Hungry campaign.
For many years, CEO and Co-founder of Ted's Montana Grill, George McKerrow, Jr. has rolled up his sleeves to help Share Our Strength increase visibility of the issue of childhood hunger in America, raise funds and inspire others to get involved. Even though he has a restaurant company to run, he takes time to serve as the co-chair of the Atlanta premier culinary fundraiser: Taste of the Nation, engages his restaurant company in the Dine Out For No Kid Hungry as a No Kid Hungry partner and serves on the Dine Out Advisory Board. He personally reaches out to local and national business leaders and public officials to get them involved in the work to end childhood hunger in America.
In 2011, he opened the door for Share Our Strength and Georgia Governor Nathan Deal to begin dialogue that transpired into making No Kid Hungry a priority in this state. Share Our Strength launched the Georgia Feeding for a Promising Future-No Kid Hungry campaign in November 2011 alongside the Georgia Food Bank Association. The campaign is funded by lead sponsors the Arby's Foundation, Walmart, and the ConAgra Foods Foundation.
And our work expands as we engage more individuals, companies and leaders to come up with new and innovative ways to make sure that no kid goes hungry. Not just business leaders, public officials, non profits or government. We all need to work together to make sure that no kid in America experiences a day where they are challenged to learn in school or feel, have a headache from lack of nutritious food or feel the ache of hunger in their belly. Our children deserve to lead normal, happy and healthy lives.
What strength do you have to share to make sure no kid in America struggles with hunger?