Author's Note: Orange isn't just the color of team No Kid Hungry, it is actually the color of hunger awareness. On September 6th, individuals, schools and corporate partners decked themselves out in the color orange and participated in Go Orange for No Kid Hungry to help raise awareness to the 1 in 5 America kids who struggle with hunger. In addition to rocking the color orange, students under the age of 21 were encouraged to submit a written response to the following question: "Why is ending childhood hunger in America important to you?" Three winners, in two age categories, under 15 and 15 and over, were selected. Featured in this blog is 15 year old Kyle, who won first place in the over 15 category.
---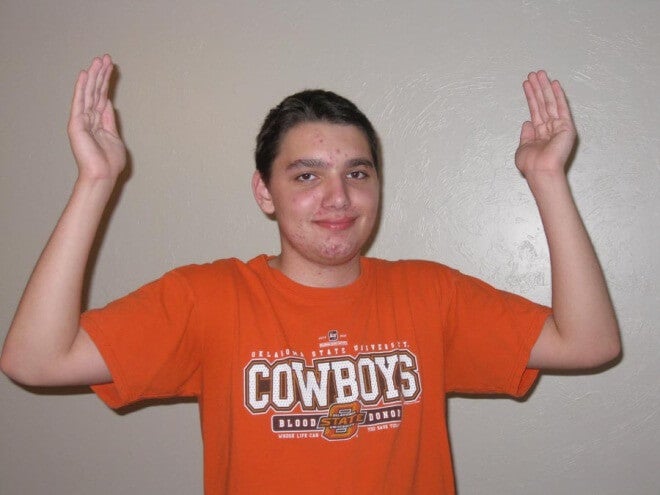 Kyle
15
Oklahoma

Imagination can become thoughts, thoughts become actions, and actions can change the world. What would happen if tomorrow a person found a cure for cancer or found a way to create world peace? A child's imagination is very powerful, but what happens if their ideas have to be put aside or even forgotten because of a pain that can be avoided, but affects kids every day? That pain is hunger. Hunger is a pain that can rob children of opportunities that could affect millions of people around the world in the future. What childhood hunger means to me is that the opportunities that could be given to children could be taken away by something as simple as a pain felt in the child that can only be changed by given what is needed to resolve the pain, food.

Approximately 16 million children have the chance to go hungry every day, 16 million children. Why are so many kids going hungry across America? The most common reasons children go hungry across America is the simple fact that their families can't support their need for food. Food is a valuable asset needed to secure a child's future as well as our own.
When I say our future, I mean the children's opportunities. If a child goes hungry, their first thought will probably be on the line of food or how to get it. Now, due to the free lunch programs children can at least breakfast and lunch, but what about the time after lunch? Children need food so they can live a day in life without the thought that they may go hungry after school. With food they keep the mindset on something that could impact us later in life.
A child's mind can create many inspirations. A child's opportunities can be forgotten or completely eliminated because they need to focus on more realistic ideas like where they will get their next meal. Giving kids food is securing that they will be okay and won't feel the continuous, agonizing pain of hunger when they go to bed that night. People can always start small to make a major difference. Just giving a small donation in money or food to programs and food pantries can affect a family of children who desperately need food. Maybe a community or even a small group or organization of people could start a fundraiser so that they may donate to this cause.
With imagination comes thoughts, with thought comes action, and with action comes change. With opportunities given to children come miraculous discoveries. Let's not let opportunities given to these children get wasted by the thoughts of hunger. Start small and get proactive to stop something that can and must be avoided for the survival of children and their dreams, for the opportunities and dreams they create and represent to change our world now or in the future.