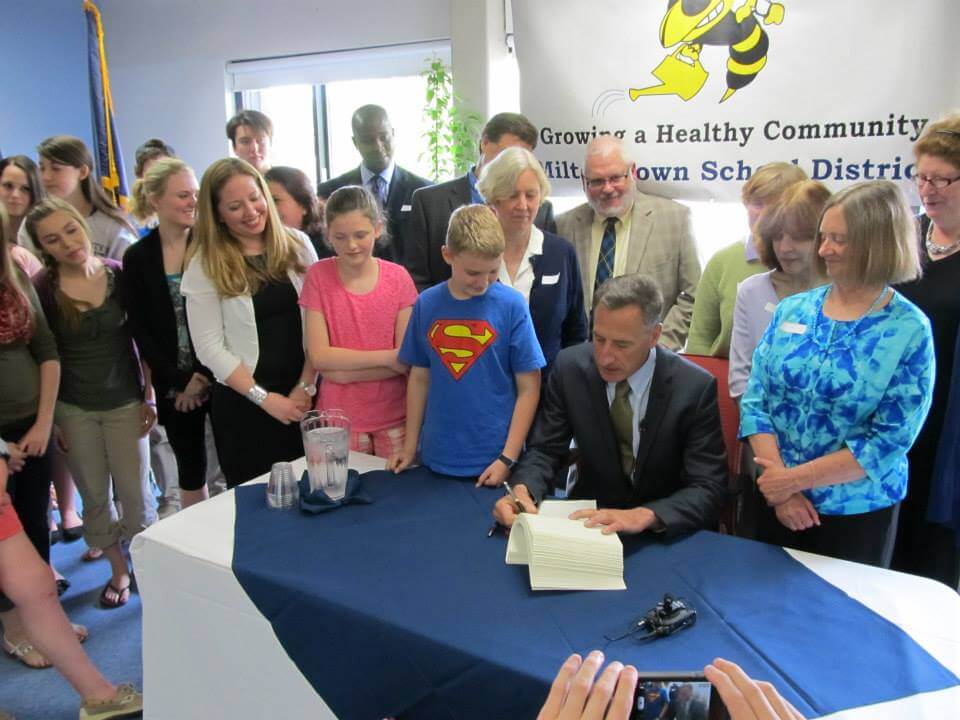 Vermont First in the Nation to Eliminate the Reduced-Price Category for School Meals

At the end of Vermont's last legislative session, I had the privilege of standing beside our Governor as he signed a bill eliminating the reduced-price category for school meals in Vermont. This means that starting this current school year, low-income students in Vermont can now eat lunch for free. It was a proud moment for all of us at Hunger Free Vermont who—joined by school food service personnel, school children, superintendents, principals, teachers, school nurses, school board members, and business managers—have advocated for this change for the last three years.

In 2008 we pushed for the same change in the breakfast program and have since seen a 185% increase in participation in the program. We know extending this measure to the lunch program will make a significant difference for students, working families, and school communities.

As a No Kid Hungry Ally, we are committed to expanding access to effective nutrition programs like the school meals program. Many students whose family income falls between 130-185% of the poverty line, and who therefore fall into the reduced-price category, do not have even two extra dollars a week to purchase lunch, and do not have extra food at home for a packed lunch. These students go without lunch, even though they are enrolled in school meal programs. Without healthy meals during the day, students' ability to focus, learn, and perform is compromised—along with their health.
This measure also makes good financial sense for Vermont schools and towns. Reduced-price eligible students who do use the meal program often run up cafeteria debts, many of which never get paid. Most schools feed these students regardless of payment, further adding to school meal program debts—ultimately debts towns must pay with local taxpayer dollars. This school year, schools will be reimbursed from the state General Fund for the forty cents reduced-price eligible students have been required to pay for each school lunch they eat. The remaining cost of these meals is already reimbursed by the federal National School Lunch Program.

Because this measure will cause more eligible students to participate in their school meal programs, schools will serve more meals, and will therefore receive more federal reimbursements. The $322,000 per year contributed by the state General Fund will bring in over $380,000 in additional federal reimbursement funds to Vermont school meal programs. Combined with the elimination of reduced-price student cafeteria debts, these additional federal funds will help to stabilize school meal programs, and allow them to spend more on improving meal quality and purchasing fresh, local food for our students.
Vermont is now the first state to offer both breakfast and lunch at no charge to low-income students who meet the federal threshold for free or reduced-price meals, making the state a model for the nation and helping to shine a spotlight on the solutions to hunger. Anti-hunger advocates across the country are passing similar laws in their cities and states and I know we can all continue to learn from each other's strategies to further ensure that no kid in our country is hungry. Instead we want every child to receive the good food they need to learn, grow, and thrive.