"If I could use one word to describe school breakfast, it would be 'blessing'. It's a blessing for our students. It's a blessing for our community." - Oscar Troncoso, principal, El Paso, Texas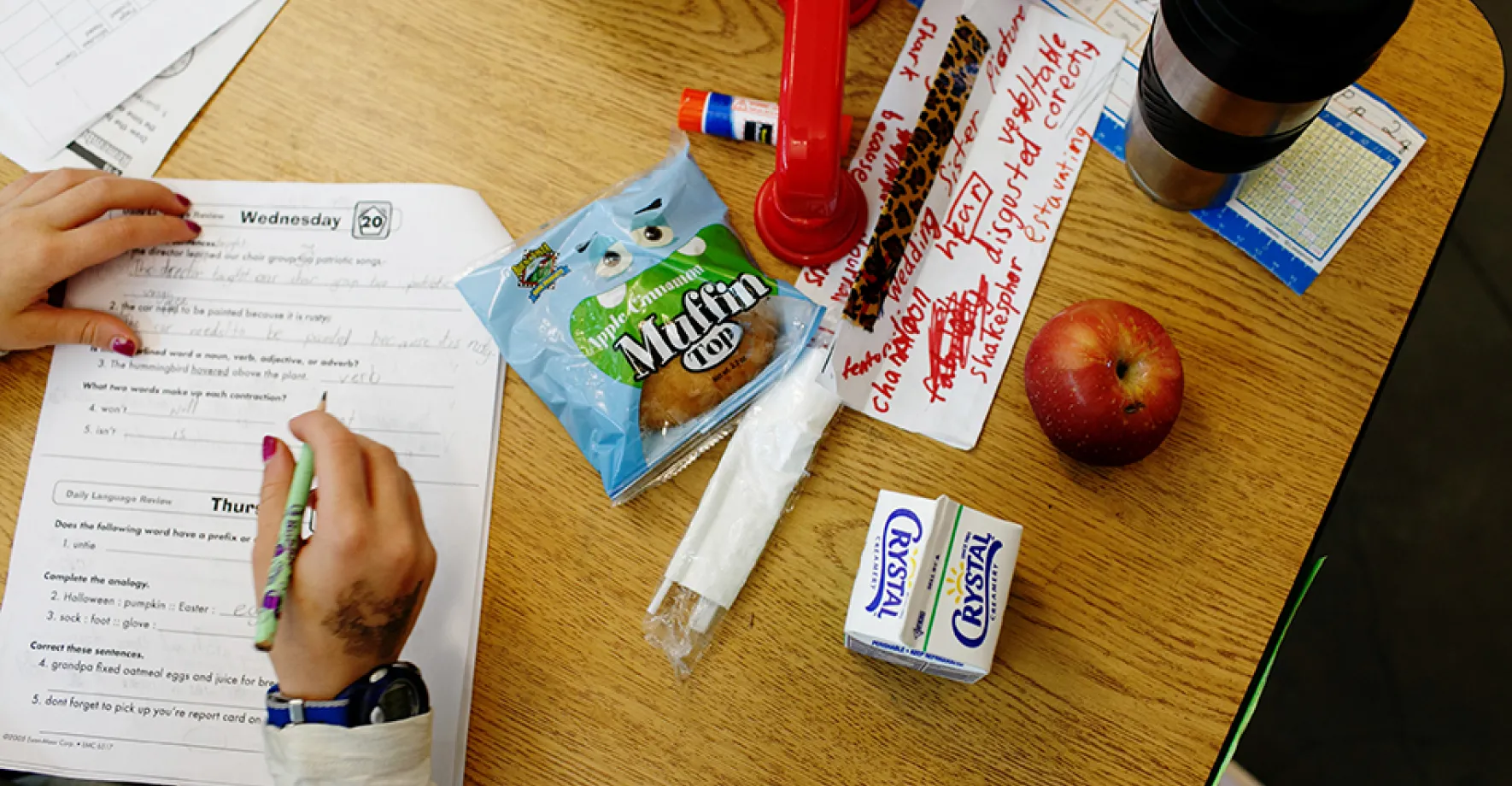 Every day, kids in America come to school hungry because there wasn't enough to eat at home. Being hungry makes them tired, irritable, unfocused. It hurts their grades, their health and their happiness. 
"The problem of hunger leads to all these other problems," said Tony Notarides, an ESL teacher from Long Beach, Calif. "These students fall behind and they never really catch up."
There's a way to fix this. Making breakfast part of the school day, just like lunch, means that a lot more hungry kids get to eat.
The school breakfast program already exists, all across the country. Just like school lunch, kids from low-income families can get breakfast for free or at a reduced price. In most states, if a family of four makes less than $32,630 a year, their kids qualify for free meals at school. The money to pay for those meals is already there; the USDA reimburses schools for every meal they serve to kids in need.
But there's a big gap between the number of hungry kids who need that breakfast at school and the ones who are actually getting it. The No Kid Hungry campaign estimates there are about 3 million kids who need a healthy breakfast at school but aren't getting one.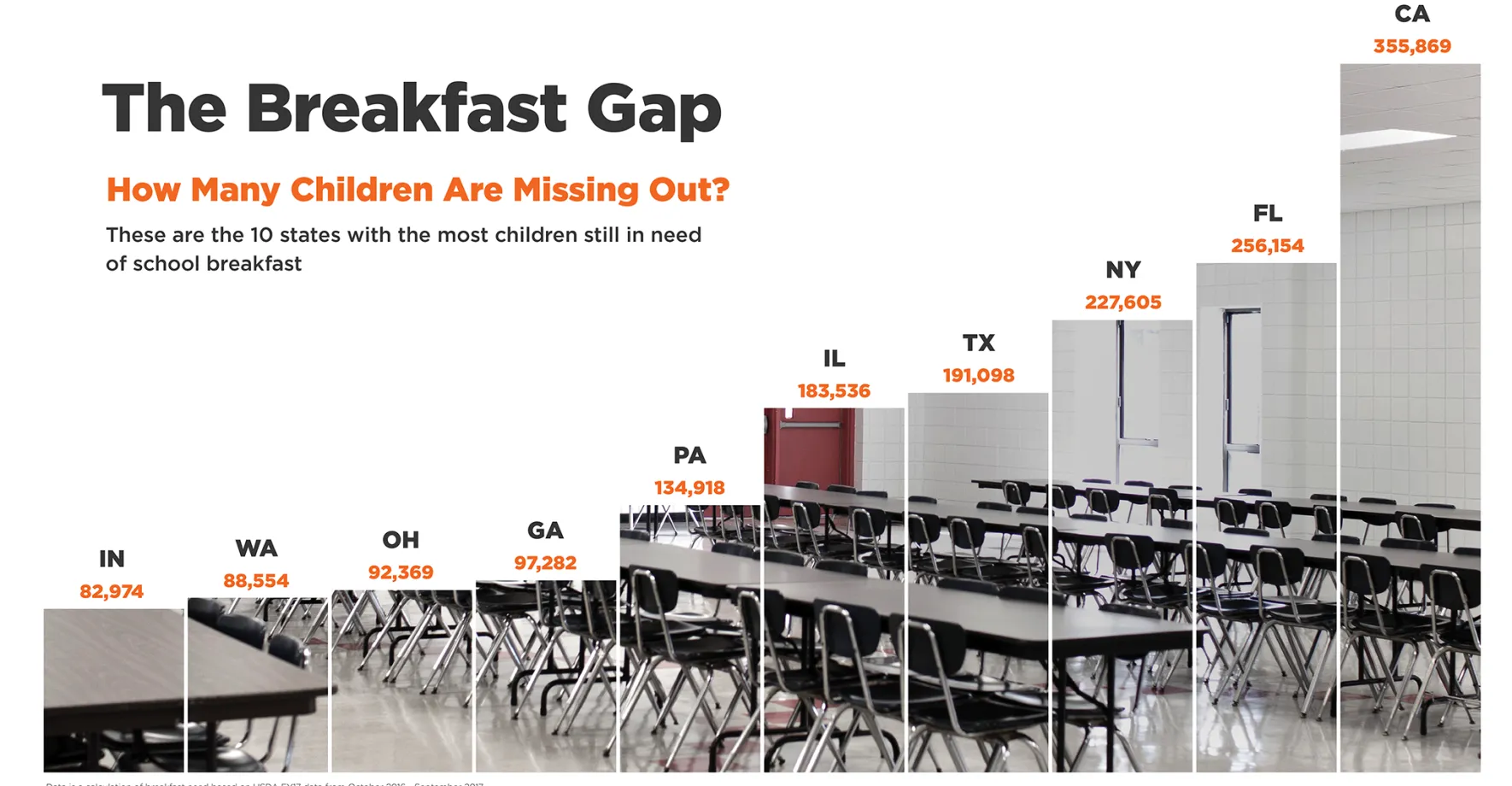 There are a few reasons for that.
In lots of schools, breakfast has always been served early, before the day begins. It can be tough for anyone to get their kid to school early, especially working-class parents whose jobs might not be flexible. 
"Sometimes I get to school too late for breakfast, and sometimes the bus comes late," said Donald, age 16, a high school student from Maryland. "Then I just try to fight it out until lunch." 
In addition, children are very conscious of how their peers think of them, especially older kids. Many of them will skip the free breakfast, even if they're hungry, rather than have their classmates see them as one of "the poor kids".
The good news? There's a proven, effective way to close that gap. When you make breakfast part of the school day, just like lunch, a lot more kids get the chance to eat.
"Since we started our new breakfast program, we've doubled the number of kids that we're feeding," said Clint Mitchell, a principal from Virginia. In one Oakland school that started serving breakfast after the bell, the number of kids eating breakfast jumped from 30 to 400. We hear similar stories from educators across the country.
So, on the one hand, we have a  heart-breaking problem - kids coming to school hungry, with no way to get a healthy meal. On the other hand, we have a solution, one that we know works.
Here's how you can help:
Spread the word. Share this blog post with your friends and family. Most Americans simply don't know there's a simple solution to the problem of hungry kids.
Email your governor. Elected officials can have a huge effect on whether or not schools offer a better, more effective breakfast program. No Kid Hungry has a simple form you can use to send your governor an email.
Support our work. Your donations to No Kid Hungry go to helping feed hungry kids, whether that's pushing hard for better policies or providing the supplies schools need to feed children, like refrigerators, carts and cooler bags.
When kids get the food they need every day, there's no limit to what they can do.