On a crisp, early spring morning, people clad in sweaters, beanies and surgical masks gather in a warehouse parking lot.
A fleet of school buses line the asphalt behind them, as gloved hands grip delivery routes and shuttle boxes of meal bags to and fro.
Manna Food Center is gearing up for another day under the coronavirus.
Today, their staff and volunteers will board the buses to deliver some 4,200 bags of milk, beans, produce, rice and other staples to 18 sites across Maryland's outlying Washington, D.C., suburbs.
"This is a whole new terrain for all of us," says Jackie DeCarlo, Manna's CEO.
Since the coronavirus closed schools and workplaces across the Capital Region, need for assistance has skyrocketed.
"There's just a real sense of increased vulnerability for families that are already paycheck-to-paycheck," DeCarlo explains. "We want people to know we're here for them. We're going to keep them safe and offer a reliable source of food."
That's why DeCarlo and her team partnered with Maryland's Montgomery County Public Schools to deliver emergency food supplies at schools and other community sites throughout the area.
As one bus pulls into Fairland Elementary School, a line of families waits: parents carrying toddlers, teens on their own, a single mother holding her son's and daughter's hand on each side. The staff and volunteers ensure people keep a safe distance as they hand off meal bags.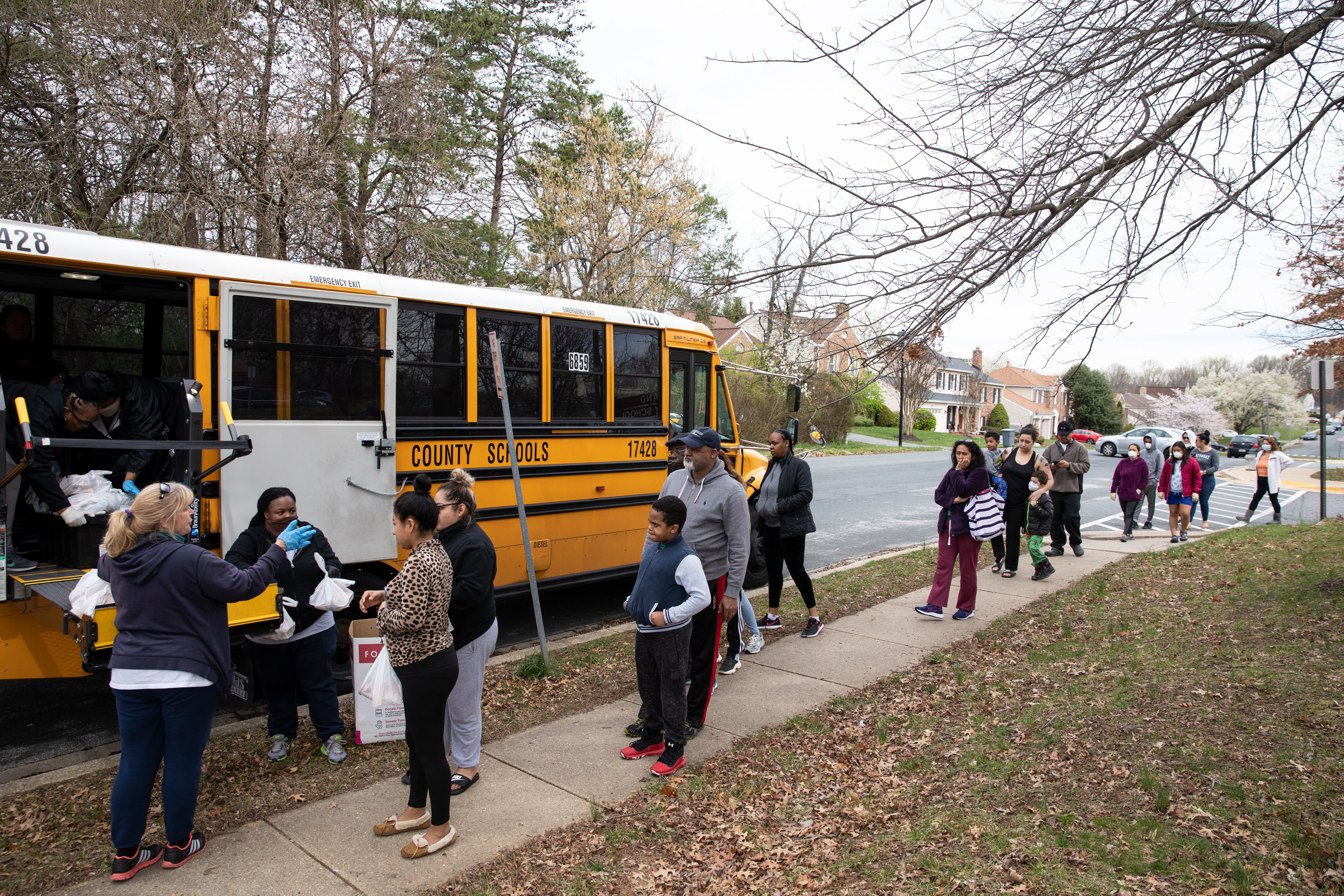 "Several couples were crying and thankful because they would have a chance to eat today," says bus driver Suset Rowe. "I drive kids back and forth to school. You can see in kids' faces when they get on the bus, 'Miss Rowe, we are hungry. We need to get to school to eat.' But right now, they're not doing that."
A sign stating "please stay in your car" welcomes families at a nearby church parking lot where DeCarlo and others load food into popped trunks. A woman wearing a surgical mask arrives on a bike and fills her backpack with produce.
"A gentleman today, he had never reached out to us for food before, but he had three grandchildren sent down from New York," DeCarlo shares. "It really touched me. Here's a guy just trying to provide for his three grandkids. He didn't expect them to be living with him, and he needs to put food on the table for them."
According to Jenna Umbriac, Manna's director of programs, the situation is unlike any they've seen – and resources are maxed out. But thankfully, they're not alone.
"There are more families turning to us right now than ever before," she says. "We aren't seeing as many donations. Grocery stores are maxed out. We've had to make more purchases to stock our warehouse, and we couldn't do that without the generous support of organizations like No Kid Hungry."
With your help, we provided an emergency grant to Manna and organizations like them nationwide. And thanks to you, we're also on Capitol Hill and in state houses coast to coast to ensure hungry kids aren't forgotten – in times of crisis and not.
"We're very fortunate to benefit from the advocacy work that No Kid Hungry does day in and day out," DeCarlo shares. "When they reached out and said, 'How can we be helpful?' that was really important to have early assurance of funding."
For her part, Umbriac can't help but be grateful for the everyday people who've donated to make that work and emergency support possible.
"Thank you so much for thinking of your neighbors, your fellow community members who are having the toughest time right now," she says. "Continue supporting as much as you're able because we don't know how long this is going to go on."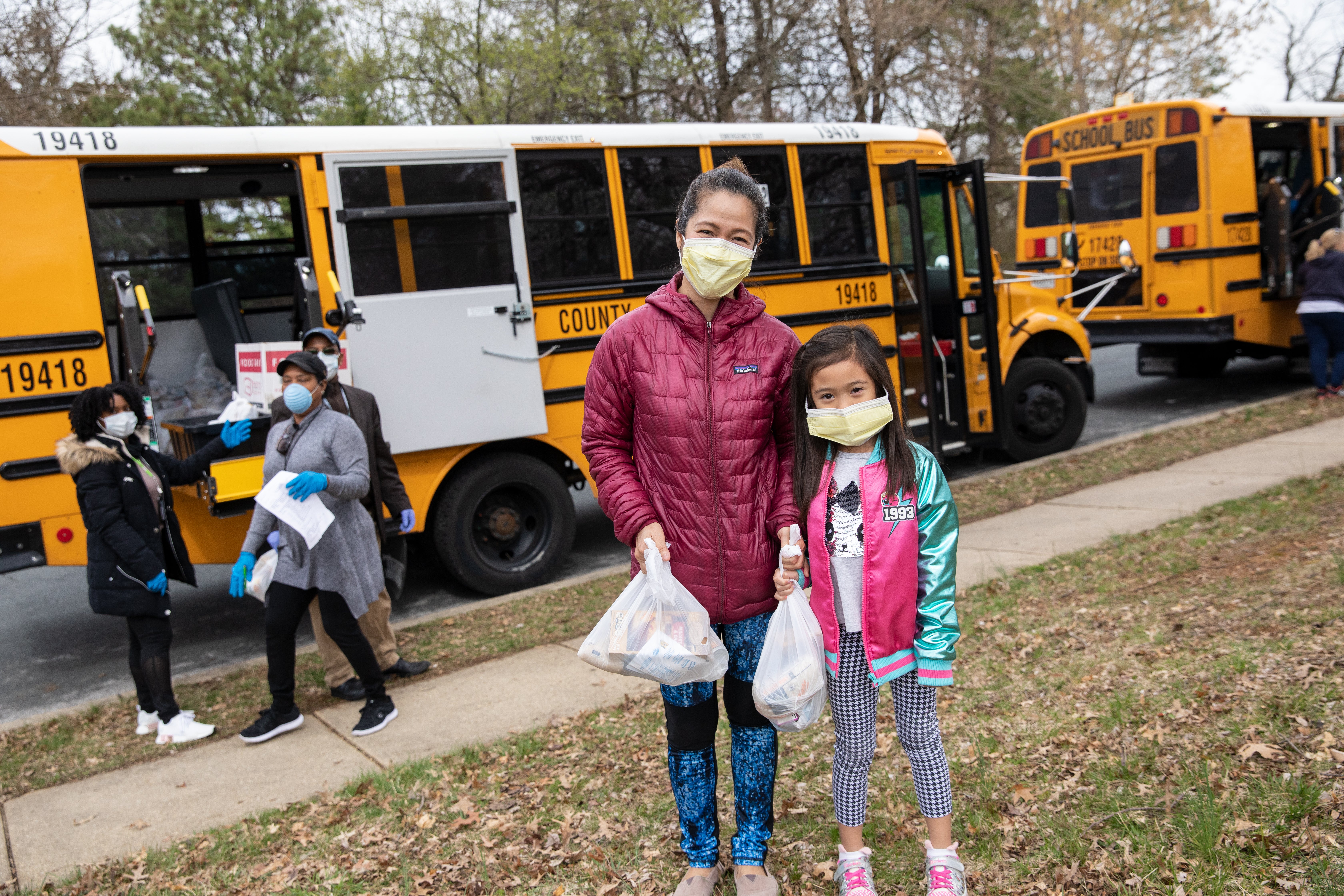 As the day's car lines die down in the church parking lot and families leave Fairland Elementary with food – and relief – in hand, DeCarlo hopes that the issue of childhood hunger in our country doesn't fade away after the pandemic.
"We shouldn't have to have a public health crisis to realize there are people who are so vulnerable," she says.
School bus driver Rowe prepares to head home and thinks about the children in whose eyes she normally sees hunger each day. "Please donate to No Kid Hungry so that they can have something on their table to eat," she says.
Help us support programs like Manna feeding kids in communities coast to coast during this crisis and in the recovery to follow. Learn more about No Kid Hungry's coronavirus response, and please donate now.