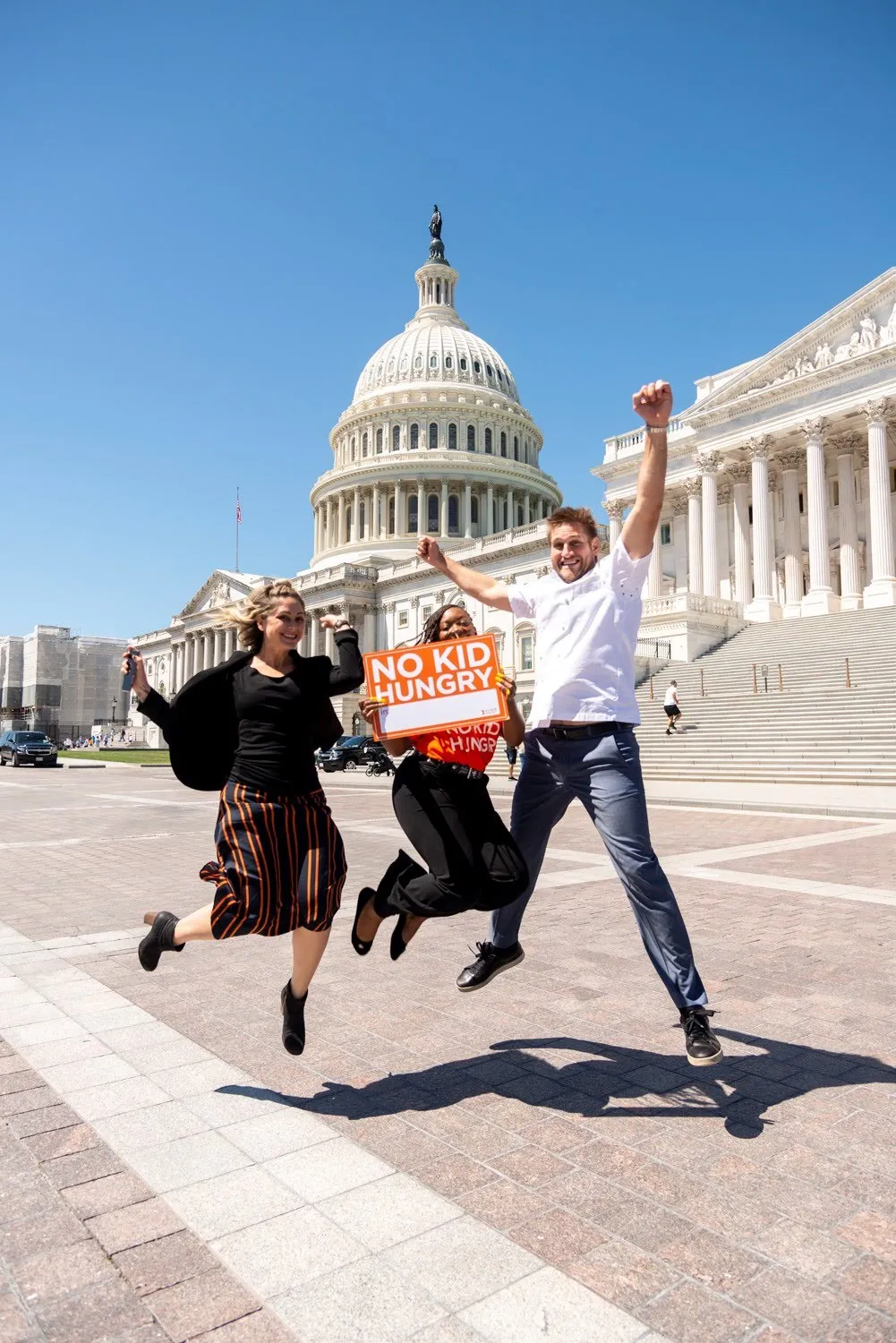 What brings chefs and college students from across the country together? Advocating for No Kid Hungry.
Nineteen chefs and culinary professionals teamed up with nearly 30 No Kid Hungry youth ambassadors on Capitol Hill recently, meeting with members of Congress to urge them to do more to help hungry kids during the summer months.
For kids who rely on free school meals, summer can the hungriest time of year. In fact, 6 out of 7 hungry kids don't get the summer meals they need.
That's why No Kid Hungry supports community meals sites nationwide, where kids can eat free all summer long. The federal government also funds these sites, and Congress is currently in the process of considering changes to the laws that govern the national summer meals program.
With that in mind, we dispatched our most ardent youth and culinary advocates to ask lawmakers to provide these programs with the resources and freedom they need to reach hungry kids.
Celebrity chefs like Curtis Stone, Ann Kim, Bryan Voltaggio, King Phojanakong, April Anderson and Brooke Williamson joined a core of their culinary peers from all corners of the country. The group leveraged their experience with hospitality and feeding others to speak on behalf of kids in need.
"For the first time in my life, I feel like I played an important role with my government and with a cause that I feel passion about," said Chef Rebecca Masson of Fluff Bake Bar in Houston, Texas.
Thanks to support from Sodexo's Stop Hunger Foundation, No Kid Hungry youth ambassadors work on issues of childhood hunger in communities from Milwaukee and Detroit to Dallas, Boston and beyond. This summer, they're helping local organizations implement and grow their free summer meals service.
Daina – a college student from Plantation, Florida – reveled in the chance to bring this issue to the nation's halls of power. "I never thought I would have been able to go to the Hill and speak to my representatives, to use my voice this way," she said. "I'm grateful for this opportunity."
While on the surface chefs and college students might seem like an odd pairing, the cause of hungry kids unites people of all walks. Thanks in part to their incredible efforts, the House of Representatives passed a substantial funding increase to help families get their kids the summer nutrition they need, and we hope to see the Senate follow suit.
Help make a difference and spread the word about free summer meals for kids in your community today.
Big thanks to all of the youth and chefs who participated!
April Anderson, Good Cakes and Bakes, Detroit, MI

Tyler Anderson, Tanda Hospitality, Hartford, CT

Kiki Aranita, Poi Dog, Philadelphia, PA

Matt Bell, South on Main, Little Rock, AR

Ian Boden, The Shack, Staunton, VA

Kevin Boehm, Boka Restaurant Group, Chicago, IL

Mary-Frances Heck, Food & Wine Magazine, Birmingham, AL

Ann Kim, Young Joni, Minneapolis, MN

Rebecca Masson, Fluff Bake Bar, Houston, TX

Andrew McCabe, bar Vetti, Louisville, KY

Ouita Michel, Ouita Michel Family of Restaurants, Lexington, KY

King Phojanakong Jr., Kuma Inn, New York City, NY

Curtis Stone, Maude & Gwen Butcher Shop and Restaurant, Los Angeles, CA

Dave Terrazas, San Antonio Botanical Garden, San Antonio, TX

Jill Vedaa, Salt+, Cleveland, OH

Bryan Voltaggio, VOLT, Voltaggio Bros Steakhouse, Estuary, Frederick, MD

Brooke Williamson, Playa Provisions, Los Angeles, CA

Cesar Zapata, Phuc Yea, Miami, FL