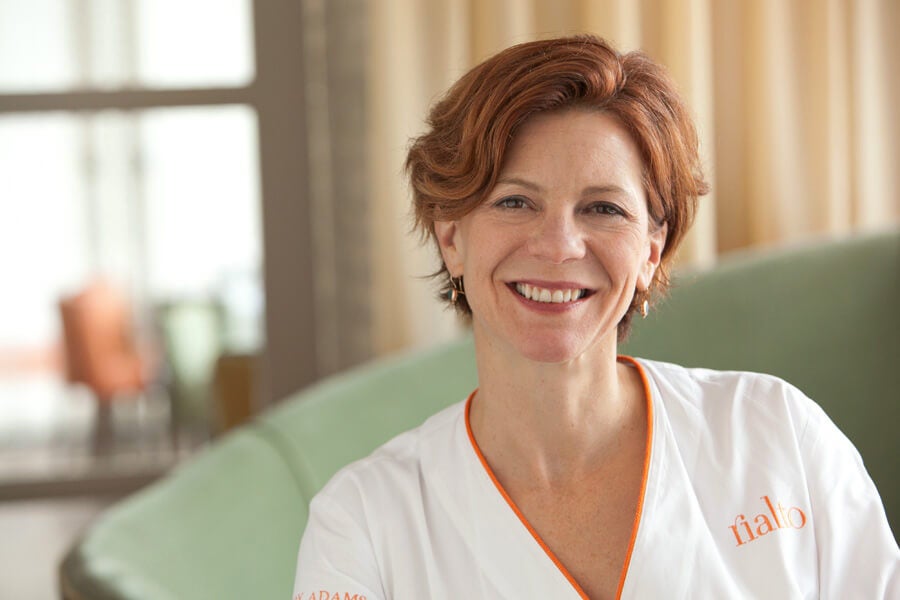 Editor's Note: Chefs are the backbone of so much of the work we do. Whether it's culinary events that raise critical funds, our nutrition education programs that teach low-income families how to shop and eat on a budget, or even lobbying on Capitol Hill on behalf of hungry kids, chefs are some of our most dedicated volunteers and advocates.

As part of an ongoing interview series that features these chef advocates, we are proud to introduce you to some of Share Our Strength's most passionate champions. The next in our series is Jody Adams, Chef/Owner of Rialto and Trade in Boston, Massachusetts. For over a decade, Chef Adams has been a culinary champion of Share Our Strength – participating in and hosting various events and being a strong advocate for ending childhood hunger. In October 2010 Jody was presented with the Humanitarian of the Year award by Share Our Strength for her dedication and work towards making No Kid Hungry a reality.
How did you become involved in Share Our Strength's Culinary Events?
Wow, good question. It was so long ago. Share Our Strength is a very compelling organization and one I instantly gravitated towards soon after it was founded.
You just hosted our 2012 No Kid Hungry Boston Dinner at Rialto – thank you! What was it like to have all of the guest chefs sharing your kitchen?
So much fun. It's always really nice to work side-by-side with your peers, which is something we don't get to do very often. It's fun for our staff, they get to meet these fabulous chefs and are introduced to different foods and different techniques. We all had a great time working with each other.
Why is ending childhood hunger important?
It's not just important, it's a priority. Children are our future. They need healthy food to learn, to grow, to build strong bodies. We need them to build a strong healthy future for our world.
How would you describe the culinary experiences at Rialto and Trade?
Different, but similar in spirit and quality. Rialto is located in Harvard Sq. Our culinary focus shifts to different regions of Italy throughout the year, so the menu is constantly evolving. We have white table cloths and correct service and our staff pays particularly close attention to detail. For 18 years it has been a place where great conversation takes place and the sense of community is inherent.
Trade is reflective of the area – sandwiched between Downtown Boston's financial district and the city's historic waterfront. With modern architecture paired with an urban foundation and finishes, a casual environment and a young crowd, the culinary focus in on small plates and shareable dishes, like flatbreads with flavors from around the globe. It's the perfect backdrop for the after work crowd or a business lunch.
What's the best meal you've had in recent memory?
It was over the holidays, when my whole family came over to my house. Both of my kids were home. We all gathered around the table and had oysters and pasta with mushrooms. It was more about the people than the food, the entire experience of everyone getting together. Delicious food doesn't have to be fancy.
What advice would you give on how to prepare healthy, low-cost meals at home?
I highly recommend a pressure cooker. Make sure you always have a stash of greens, beans, rice, and cooked vegetables. It's easy to put a meal together with these ingredients and half the work is already done for you. And don't forget delicious condiments, like pesto.
What ingredients will we always find in your kitchen?
Extra Virgin Olive Oil, a pantry full of beans, rice, whole grains, garlic, ginger, vinegar, canned tomatoes, coconut milk, soy, eggs… dry farro, fruits, good cheeses. A lot of stuff!
What is your favorite childhood food memory?
Making semolina gnocchi with my mom. She always made it for dinner parties. I added it to my own menu at Rialto, served with chicken.
What is your favorite cheap eat? Favorite splurge?
Potato chips and french fries – I can't keep them in the house or order them. I tend to steal them from other people!
What chefs do you admire?
All chefs, it's a hard job.
What would you say to chefs who are looking to give back? Why is No Kid Hungry important to you?
Find an organization that touches your heart and that you know is doing good, effective work on the ground. I know how Share Our Strength works hard and that the money I help raise is being spent well and is used in the right places.