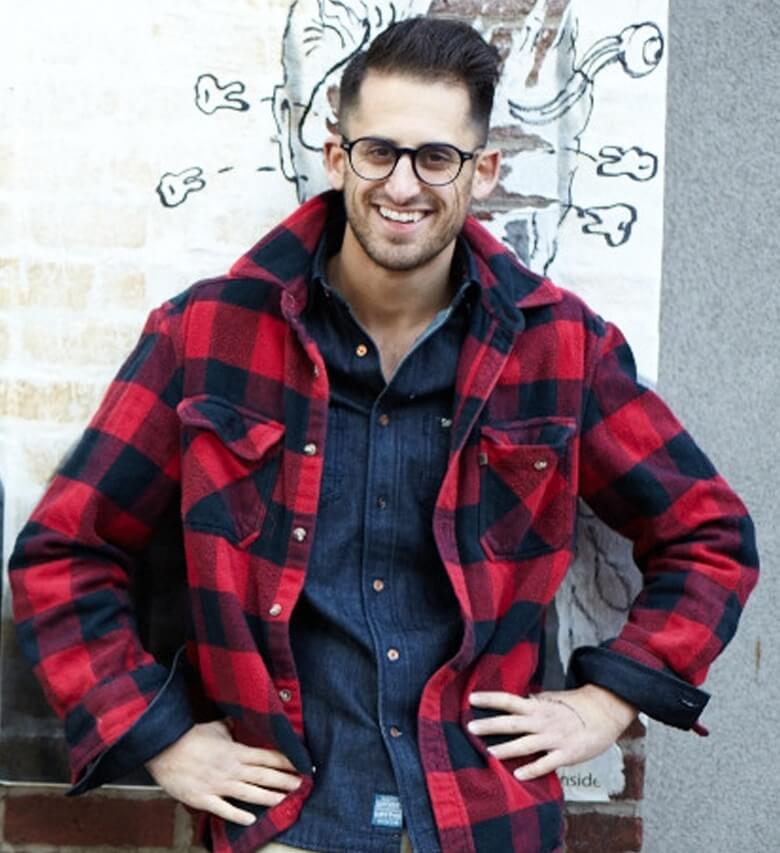 Editor's note: Chefs are the backbone of so much of the work we do. Whether it's culinary events that raise critical funds, our nutrition education programs that teach low-income families how to shop and eat on a budget, or even lobbying on Capitol Hill on behalf of hungry kids, chefs are some of our most dedicated volunteers and advocates.

We want to introduce our community to more of these chefs, so we're starting an ongoing interview series that features these chef advocates. The next in our series is Eli Sussman of Brooklyn, NY. Eli has been a chef, organizer and auctioneer a number of Taste of the Nation events – from NYC to LA. He and his brother Max are culinary renaissance men in every sense – from co-authoring two cookbooks (The Freshman Kitchen and This Is A Cookbook) to cooking on the line at some of Brooklyn's hottest spots, these two do it all. Keep up with them @TheSussmans.

Eli! You've been involved with Share Our Strength in so many ways - from hosting our Conference of Leaders in 2010 to leading the auction at Taste of the Nation NYC. What inspired you to get involved?
When I found out about Share Our Strength I was living in Los Angeles and had worked on and off in food for years. At that time I was working professionally in advertising and wanted to find a charity that had something to do with food. So I volunteered at Taste of the Nation L.A. and found that the entire volunteer team and Share Our Strength staff was so professional, kind and devoted to the cause. They were people I wanted to hang out with while we did good work in the city. Once I saw the event in action and heard how much money it raised for the local and national causes, I was hooked.
You just released your second cookbook – congrats! Tell us a bit about your style of cooking and what our readers can expect from This Is A Cookbook.
We are both about bringing cooking back to the roots of being in the kitchen and making delicious food using fresh ingredients. Nothing too time consuming or overly complex. Our cookbook is meant to be used often. It's a guide and inspiration for those interested in food but reluctant to cook themselves. It's not a coffee table book and we are hoping to convince people to get rid of the frozen and microwave foods and buy things fresh.
Are there any other chefs that you admire or that have influenced your approach to cooking?
I greatly admire my chef at Mile End. He's an incredibly patient teacher and he's been working in the food world for so long he's seen every situation and has backgrounds in so many different styles of cuisine. He's just a tremendous deep resource. And he never yells. I don't respond well to being yelled at and he's created a true collaborative environment at Mile End. It's just an amazing place to work and learn. I also love the food at John Dory Oyster Bar, Talde and Battersby. Very different chefs doing phenomenal food in the city.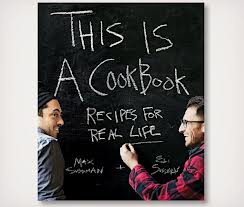 You've both been traveling a lot for the cookbook this year – what were your most memorable meals of 2012?

We just traveled to Chicago for a book signing and demo at Williams-Sonoma on Michigan Ave. We went to Au Cheval for dinner and it was tremendous. Packed with flavor and just perfectly executed. At first glance the menu doesn't seem mind-blowing - bone marrow, fried chicken, a burger, matzo ball soup - things like that. But it was all done exceptionally well. It's a rarity that you go to a restaurant and order eight items and each one is so good you'd order it again in a heartbeat. The only problem was that we over ordered – we ran out of space or else we'd have taken down the whole menu.
What are you planning for Thanksgiving? What are your go-to dishes for the holidays?
We are heading back to Michigan for Thanksgiving. We'll be at our mom's parents' house where we go every year. I am a huge gravy guy. I just drench everything in gravy. I eat turkey all year round so that's not that "special" for me but stuffing and gravy is just one of my favorite flavor combinations in the world. A plate of turkey, stuffing, mashed potatoes all covered in gravy with some good bread and a glass of ice cold coke. That's Thanksgiving perfection to me.
Besides gearing up for Taste of the Nation NYC, what's on the horizon for you two? Any exciting 2013 projects?
We have a few projects in the works but can't reveal anything yet. Let's just say that 2013 is going to be the most collaborative and busy year we've ever had. It will definitely be a massive challenge but we're working on some huge things. And in terms of Taste of the Nation, I hope to be back in LA doing the live auction and holding it down as one of the organizers of the NYC event.
What would you say to chefs who are looking to give back? Why is No Kid Hungry important to you?
Share Our Strength is a major force for good in the US and doing tremendous work to ensure children have enough to eat. People in restaurants often forget that there are so many people that are desperate for food in the U.S. Chefs can do something as easy as donating an auction item to raise funds, donating personal time by volunteering at one of the recipient organizations in their respective city or talk to the event chair and get involved in a more substantial way on the board as an event leader. As chefs become more and more recognizable it's important for chefs to use their celebrity for good and Taste of the Nation allows chefs to connect with potential new customers while raising awareness and money for a brilliant and much needed cause. A chef channeling the Taste of the Nation message by using their own TV show, restaurant, Twitter and Facebook is a wildly successful strategy to spread the message.
No Kid Hungry is important to us because it's a critical cause to the future of this country. Working in a restaurant we interact with food and people who can easily afford food all day long. It's important to remember that in this country there are millions of people struggling to eat every day. It helps keep things in perspective by always remembering that while the day to day stress of a restaurant can be daunting and that while each plate of food that leaves the kitchen needs to be perfect, there really are much bigger food issues in the U.S. that could use some of our attention and energy.