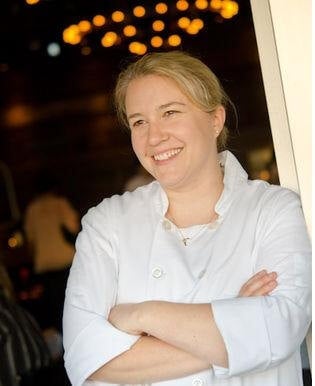 Editor's Note: Chefs are the backbone of so much of the work we do. Whether it's culinary events that raise critical funds, our nutrition education programs that teach low-income families how to shop and eat on a budget, or even lobbying on Capitol Hill on behalf of hungry kids, chefs are some of our most dedicated volunteers and advocates.
We want to introduce our community to more of these chefs, so we're starting an ongoing interview series that features these chef advocates. The next in our series is Sarah Schafer, Executive Chef at Irving Street Kitchen in Portland, Oregon. Chef Schafer has participated in Taste of the Nation for seven years and in three different cities – San Francisco, New York & Portland. In addition, Chef Schafer has hosted our No Kid Hunger Dinner at Irving Street Kitchen for the past two years. Mentored by Danny Meyer, Chef Schafer has a keen understanding of the relationship between the restaurant, the customer and the community.
How did you become involved in Share Our Strength's Taste of the Nation & No Kid Hungry events?
My story begins in New York City when I was working at Gramercy Tavern.Danny Meyer and Tom Colicchio invited me to volunteer for a dinner they were doing to raise money for Share Our Strength.I remember the chefs were Jean Louis Palladin, Eberhard Muller, Françoise Payard and an Italian Chef (who showed up 15 minutes before his course!).I was never so scared or proud in my life. It was a chance for me to give back and work with a few of my heroes.Every year I was given another chance to participate in the dinners and experience a new series of chefs.Thomas Keller, Chris Schlesinger and Todd English and Marcus Samuelson came next.I moved to open Eleven Madison Park and continued to participate in more dinners.It wasn't until I was working at Irving Street Kitchen that I was approached again by Share Our Strength – but this time to be the host chef!Now I'm entering my second year as host with yet another incredible line up of my peers, some of which worked those early dinners as a line cook beside me in awe.I am humbled by the opportunity to share this message through what I love most, cooking.
Why is ending childhood hunger important to you?
Creating food and feeding people has been my life. I am constantly thinking about and creating dishes to satisfy the patrons. I understand measurements, cost analysis, commodity availability and most of all demand. There is no greater demand than that of a hungry child. My comprehension of how easy it should be to feed the children in my community is what drives me to educate people. There is no reason Oregon should be seventh in the nation for hungry children and I will do what I can to change that.
Do you have any advice to chefs looking to give back?
Working in an industry where you never go hungry, it seems immoral not to give my time and skill to feed those who can't feed themselves.The bond that we have created between the restaurant and the community has made me a better chef and a stronger leader.
How long have you been cooking? Why did you become a chef?
I have been cooking for 21 years, I became a chef because I was very artistic and driven as a child; it came very natural to me.My mother and great grandmother were amazing cooks.
How would you describe the culinary experience at Irving Street Kitchen?
Deeply layered elegant food with a touch of comfort and service to match.
What ingredients will we always find in your kitchen? Do you have seasonal favorites?
Chicharrones
Which chefs have been influential in your career?
Each chef I have had the pleasure of working for or with has been influential to who I am as a chef. From my earliest days on the line to the prestige of leading the kitchen at Irving Street, I am constantly watching and learning from those around me. That is why this year's No Kid Hungry Dinner is so special for me. I am honored to be joined in the kitchen by some of those great chefs from my past and ones that I am excited to work with for the first time. Each one is as influential as the next.
What's the best meal you've had in recent memory?
I think some of the best meals I've had have happened right in my own kitchen, but not necessarily made by me. I have two masterminds in my kitchen who I'm lucky to call my sous chefs. They are constantly asking me to try their latest creations – most recently it was chicken fried chicken livers with blackberry/bacon vinaigrette and creamy collard greens.Wow.
What is your favorite American culinary destination? What was your best meal there and where was it?
I would have to say San Francisco is my favorite culinary destination because San Francisco restaurants are usually little culinary vacations all on their own. One of the greatest meals I've ever had was at GK Kitchen, a tiny Japanese restaurant on Hyde St. where they deep fry a whole live Dungeness crab and finish with only salt and pepper. It's served in a big pile on the table.A chef's dream. Definitely memorable.