Summer break can be the hungriest time of year for children who depend on school meals.
But this summer, in the wake of the coronavirus, it may be even worse. 1 in 6 kids may be living with hunger right now because of the pandemic.
That's why National Spokesfamily Ayesha and Stephen Curry are helping spread the word on how families in need can easily find free meals for their children. 

Through No Kid Hungry's free summer meals texting line, you can simply text the word "FOOD" or "COMIDA" to 304-304 to find nearby community sites serving free meals for kids. You can also visit our online meals finder map at NoKidHungry.org/help or NoKidHungry.org/ayuda.
It's that easy. No questions asked. It's just healthy food for hungry kids and teens who need it.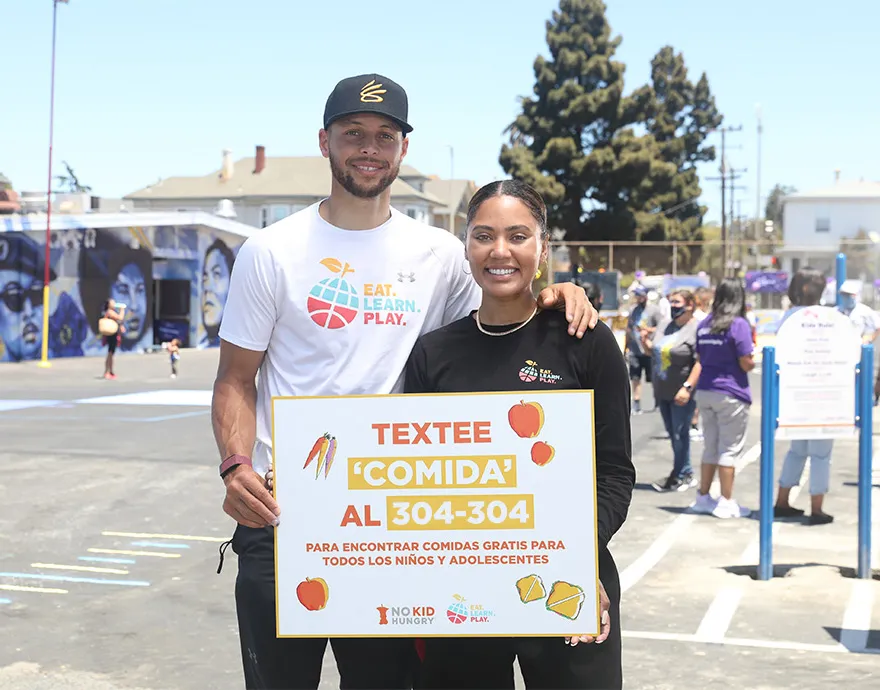 The Currys are all in to end summer hunger.
In fact, their Eat. Learn. Play. Foundation partners with No Kid Hungry to ensure kids in Oakland, Calif., get the three meals a day they need to reach their full potential. And they consistently help raise national awareness about childhood hunger in America – most recently, through Ayesha's virtual appearance on Capitol Hill in front of Congress' House Rules Committee to underscore the critical role nutrition programs play in making sure kids get food every day.
Too many children are living with hunger this summer. Join No Kid Hungry and the Currys to help them get the nutritious meals they need to grow, learn and just be kids.
Check out our free social media toolkit, and help us spread the word to ensure no child goes hungry this summer.