In celebration of Asian American and Pacific Islander (AAPI) Heritage month, we will be highlighting stories from No Kid Hungry's culinary champions and staff who are members of the AAPI community.
We sat with Chef Tim Ma of Lucky Danger in Washington, D.C. and Laoban Dumplings. Over the years, Ma has supported No Kid Hungry by participating in our DC dinners and events for donors. He shared his personal experiences with us as a first-generation AAPI chef and co-founding Chefs Stopping AAPI Hate, a non-profit that spreads awareness of the ongoing attacks on members of the AAPI community and fundraises for local AAPI organizations who work to stop anti-Asian racism.
When did you realize you wanted to open your own restaurant?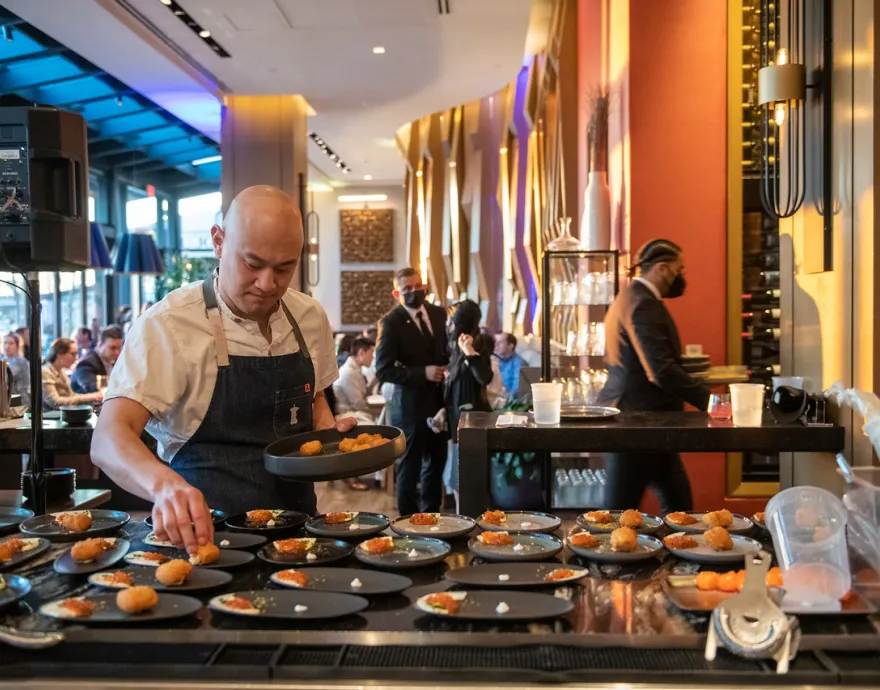 I remember the exact moment. I was 26 and in the middle of my engineering career. At a sushi restaurant with my sister and brother-in-law, I decided that I wanted to follow the steps of my uncle and open a restaurant. Unlike engineering, when you cook, you create something and you put it down on the table in front of someone and you get immediate feedback and gratification for the work that you've done. Four years later I opened my first restaurant. 
How do you remain connected to your Chinese culture through your work? 
My parents raised me American, so that I could fit in, so that I wouldn't have to feel like an outsider as they did when they immigrated here. Maybe if I didn't have an accent and understood American culture, kids around me would look past the fact that I was Chinese and would not bully me.  I had a challenging childhood with this mindset and environment because I could never identify with either culture.. 
At age 30, when I started having kids and my career as a chef, I started paying more attention to my culture and how it played in my life. It had surrounded my entire life, in family gatherings, in my uncle's restaurant. Now, I'm running a Chinese takeout restaurant like him. It has come full circle. 
Can you tell us about co-founding Chefs Stopping AAPI Hate with Chef Kevin Tien (Moon Rabbit DC)?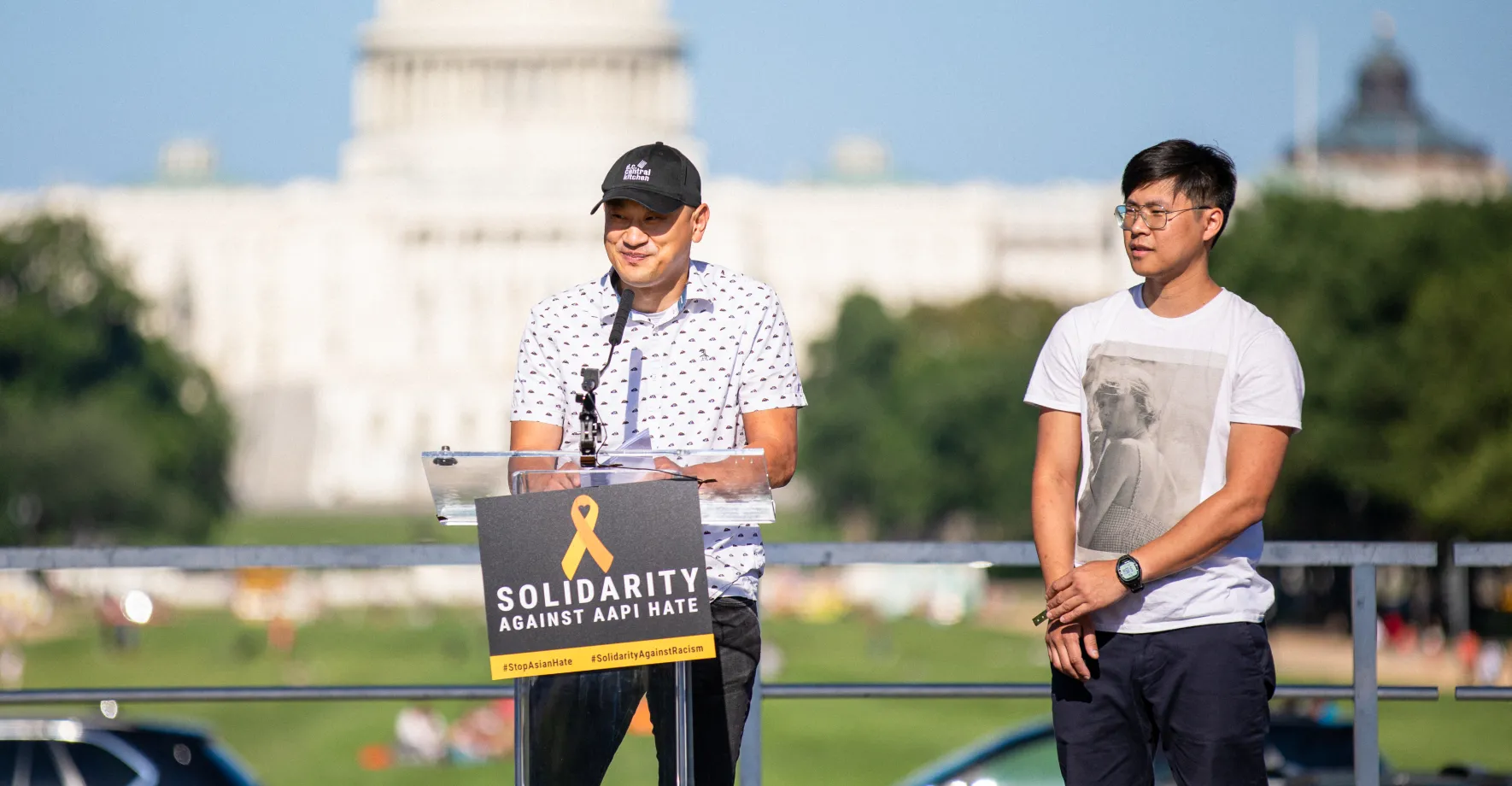 Chefs are hospitable. We get into the industry because we are here to serve and help. When I saw the videos of the AAPI attacks caused by the increased anti-Asian sentiment , I thought, 'that looks like my mom, my dad, my grandparents, getting bullied.' 
Kevin and I were on the phone one day and agreed  it would be irresponsible not to do something. Food is a good way to bridge gaps. Our skill is cooking, so we wanted to cook to raise money. It all started with one dinner with five Asian American chefs in DC and is now a network of over 200 chefs in DC, New York, San Francisco and Detroit fundraising for local AAPI nonprofits.
With Chefs Stopping AAPI Hate, we had other cultures, ethnicities, and communities standing by and helping us. And now, when other communities need it, we stand by them. We have fundraised for Ukrainian refugees. I relate to them because my family had to escape mainland China to Taiwan and eventually to the US.  
How will you celebrate this AAPI Heritage Month?
With the Chefs Stopping AAPI Hate this year, it won't be about response to a crisis or negative events happening. We really want to celebrate AAPI Heritage and to focus on the good things that are in our community, the things that people are drawn to and love about the culture.
We'll be supporting HBO Max with the Los Angeles Asian Pacific Film Festival, fundraising to support AAPI businesses that are vandalized. We also sat down with Juju Chang and Good Morning America to talk about the dinners that benefited World Central Kitchen and our non-profit pivoting to support other communities. 
There are other small things we'll be doing to celebrate. There's an Indonesian ice cream company that we will supply to restaurants and donate proceeds to the nonprofit. Within my own business we'll do the same. 
What inspired you to get involved with No Kid Hungry's work?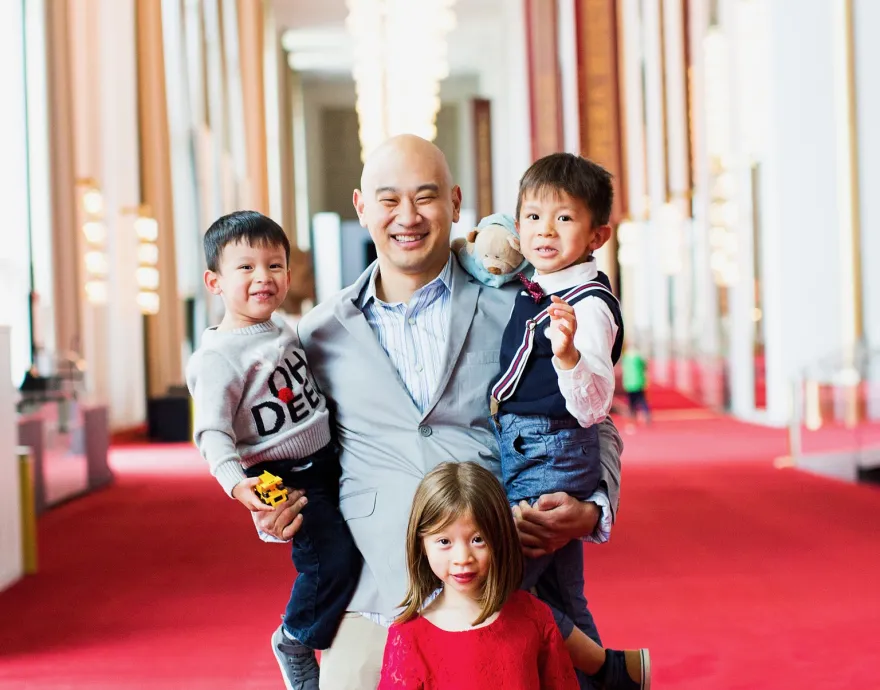 To me it's always something personal. I have three kids. Looking at my own kids, we are lucky enough as they have not had to deal with food insecurity. It's hard to see any kid go without food. I did a lot of work early on around food waste and food insecurity. I was always drawn to that. It's the responsibility of a chef to not just be in charge of your kitchen, you're a community leader. I grew up pretty poor and remember being a child and how scarce things were and how hard that is, how hard of a way that is to live.
My sister and I were born in Arkansas, then we moved to New York when I was about seven years old. We lived in a house that had a dog groomer on the first floor and then an apartment, more like an attic that got converted into a bedroom. I didn't have many clothes and we didn't have enough money to really afford clothes. We found clothes within the drawers of the house that we lived in and they just happened to fit me. Those were the clothes that I wore for all three years that we lived in New York. It was hard. There was no shower, just a bathtub, and no laundry, there was nothing in there. We were punished if we didn't finish the rice and sometimes that's all we ate. Those were very tough years. You don't want to see that happen to anybody, especially towards your kids.
---
Stay tuned for more AAPI Heritage Month content this May and join Chef Ma in the fight against childhood hunger.