One of the major ways that No Kid Hungry ensures kids get three meals a day to grow up healthy, happy and strong is by supporting and investing in school meals programs that play an essential role in feeding kids. The National School Lunch Program, which reaches almost every student in the United States each and every day with a healthy meal, is one that we proudly stand behind. 
Over 75 years ago, President Truman signed the National School Lunch Act, forming the National School Lunch Program, which paved the way for the creation of other programs like school breakfast, after school meals, summer meals, and more. Today, the National School Lunch Program has made it possible for schools to serve nearly 30 million children every school day. 
Administered by the U.S. Department of Agriculture (USDA), this vital program, which operates in nearly 100,000 public and nonprofit private schools and residential childcare institutions, provides nutritionally balanced, low-cost or no-cost lunches each school day. All kids can participate, but certain eligibility requirements allow students to get a free or reduced-price lunch based on their family's income. 
In addition to helping to close the opportunity gap for children across the country, the National School Lunch Program ensures the health and well-being of students and boosts their academic performance by giving them the fuel they need to succeed. 
"If there wasn't free lunch for students, students wouldn't eat. If some kids weren't on a free lunch program, they wouldn't get food. Some parents have to pay for lunch, and some parents don't have the money to pay. There is hunger. We see it here." 
— Orlando Liriano, PE Teacher Northmore Spotlight Schools, West Palm Beach, FL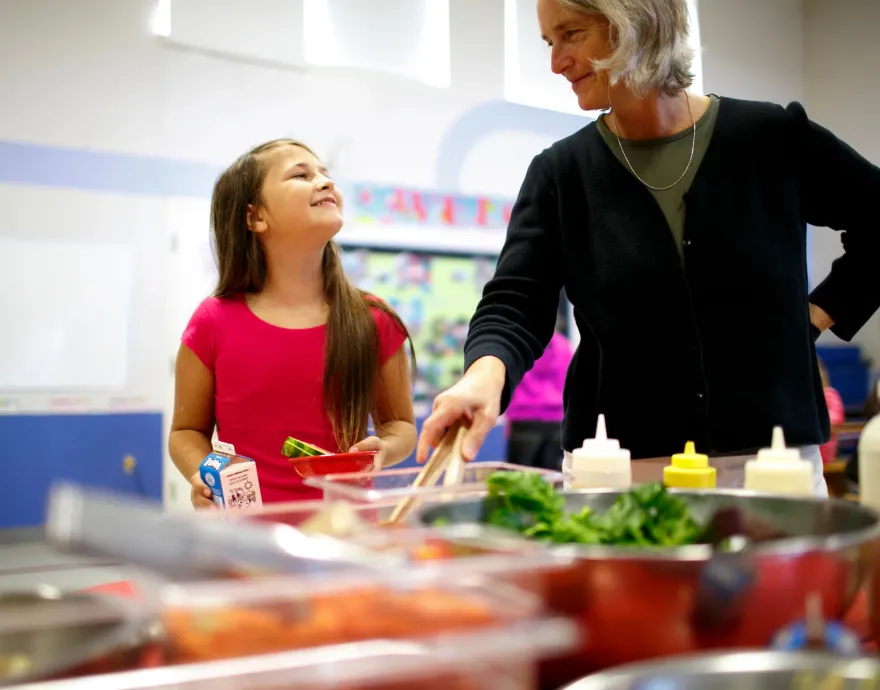 Participating School Districts and Independent Schools
Participating school districts and independent schools receive cash subsidies and a per meal reimbursement for each qualifying meal they serve. In exchange, National School Lunch Program schools must serve lunches that meet federal guidelines. However, decisions about the specific foods to serve and the methods of preparation are made by local school food authorities. 
Federal child nutrition programs, such as the National School Lunch Program, which allow students to receive breakfast, lunch or after school meals for free or pay a reduced price based on their family's income, reach millions of children across the country. 
Before the pandemic, schools served a free or reduced-price lunch to more than 21.7 million kids across the country on an average day. During the pandemic No Kid Hungry saw schools come up with a variety of new ways to feed kids lunch. No Kid Hungry provided funding and support for those efforts, and today we continue to help schools improve their lunch programs. 
Benefits of the National School Lunch Program  
"For anybody that doesn't believe that child hunger exists…visit the lunchroom and watch these children and see the need, see the fact that they probably, if at all, did not eat very much all weekend, and now they're just trying to make up for the weekend."
—Denise Pope, Social Worker, Colquitt County School District, Moultrie, GA
Eating school lunch has a real, powerful impact on kids. For the millions of children who receive a free or reduced-price school lunch, these nutritious, convenient and affordable meals fill in the gaps that many kids are missing at home by increasing their health and overall well-being. Better nutrition increases students' concentration and improves their cognitive function, which leads to higher test scores and a better education. 
School lunches are designed to meet specific nutritional needs for growing kids. When these standards are met, students who eat regular, healthy meals are less likely to be tired, get sick or miss school. They're also more attentive in class and retain more information. Additionally, children who are nourished are less irritable, get along better with classmates and cause fewer classroom disruptions. 
Research shows that for many kids, the meals they eat at school–including school lunch–are the most nutritionally balanced meals they get all day.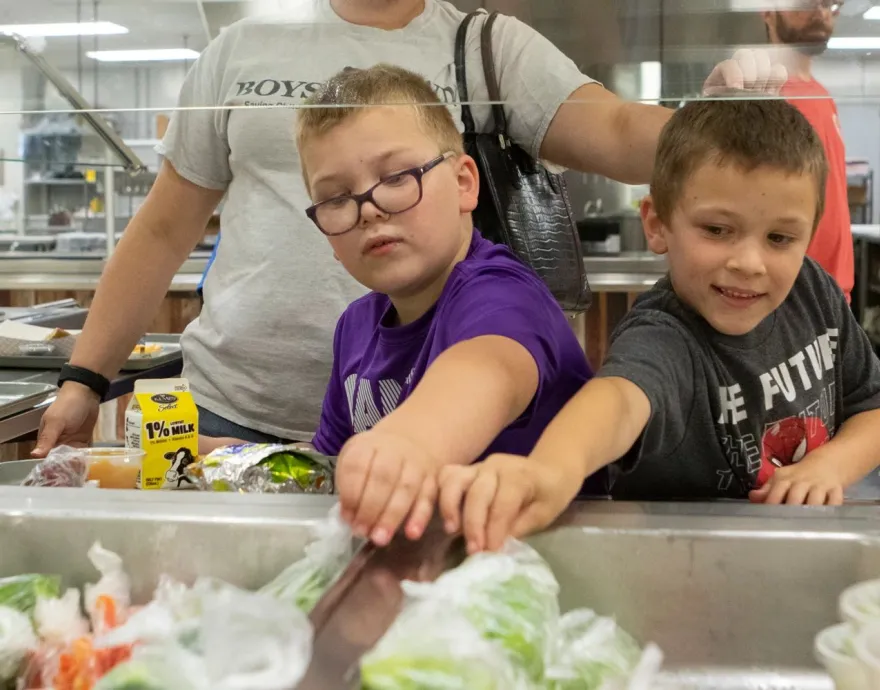 The benefits of the National School Lunch Program don't stop there. When kids eat with their peers and trusted adults like teachers and principals, it creates a sense of community. Not to mention, meals like school lunch can play a massive role in building equity and making sure kids can focus on their classwork and on just being kids. 
"[Meal programs are important] especially for kids that don't have time in the morning and don't have time to wake up or make lunch and pack it and stuff. They can get a good meal to eat and just not be hungry and can go to bed on a full stomach."
—Wilson, age 9, Waltham Boys and Girls Club, Waltham, MA
School lunch remains a pillar of the school meals program, and it continues to play an important role today. It's a powerful tool that ensures kids are nourished and ready to learn. Along with other school meals, school lunch helps provide the consistent nutrition kids need to learn, grow and reach their full potential. Because of its positive effects on students' health, learning and well-being, it's a school meals program that No Kid Hungry wants to see continue. 
National School Lunch Week 
In 1962, President John F. Kennedy created National School Lunch Week to promote the importance of a healthy school lunch in a child's life and the positive impact it has inside and outside of the classroom. 
Despite the significant impact that the National School Lunch Program has had on the health and success of American children and teens, many people still don't understand its importance—including some families who could benefit from it. National School Lunch Week is an opportunity for School Nutrition Associations members and their students to celebrate this effective school meals program with special menus, events, activities, and much more.
Held annually during the second full week of October, the goals of National School Lunch Week are to: 
Increase student participation in the school lunch program; 
Spread the message to parents that healthy, delicious lunch is being served at school; 
Gain media coverage from local papers, TV stations and bloggers to get the word out; 
Connect with teachers and administrators at schools or in school districts to spread the word that school meals are healthy and delicious. 
National School Lunch Week is as much about informing communities about the importance of school lunch as it is about informing the students and parents of the rewarding benefits. You can help spread the word by reaching out to local media outlets to see if they're interested in talking to your school district's food service workers and doing a piece about the impact school lunches have. 
School Lunch Hero Day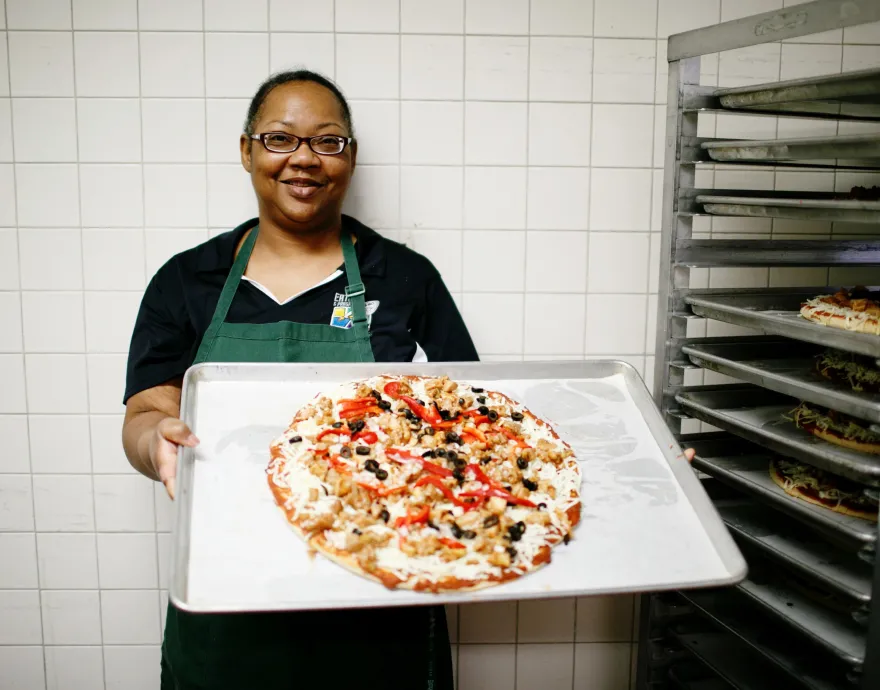 National School Lunch week isn't just about celebrating the school lunch program, but also the providers. Every day, school nutrition professionals work to provide students with healthy meals, ensuring they're ready to learn, thrive and grow. 
 When we say school nutrition professionals are heroes, we mean it! That's why we celebrate them every spring with the annual School Lunch Hero Day. Join schools across the country who are recognizing the difference these team members make for every child who comes through their cafeteria.
Learn more about the ways you can help hungry kids or make a donation today.