Rising Food Prices Are Hurting Kids and Families   
A new No Kid Hungry survey* shows how the continued rising food prices are affecting a staggering number of families nationwide.
The report provides new and startling statistics that reveal how inflation is affecting more households than ever before. Of families surveyed, 58% of middle-income families reported that they struggled to put food on the table in the past 12 months.
According to the U.S. Bureau of Labor Statistics, food prices rose 9.5% in February compared with the previous year. Fifty-eight percent of surveyed middle-income families and 68% of lower-income families reported it had become harder to afford enough food for their children over the last year.
Rising Food Prices Impact Mental Health 
The rise in food prices isn't just taking a toll on family budgets, it's also taking a toll on the mental and physical health of the surveyed parents and their children, which is compounding the gravity of the issue. Forty-one percent of parents with lower incomes and 45% of middle-income parents noticed a negative change in their children's mental health as a result of not having enough to eat.
Of those surveyed, 62% of parents with lower incomes and 45% of parents with middle incomes participated in food assistance programs for the first time last year.
"[School meals] help a lot, because even though I have two jobs, the money is not enough," said Jose Carranza, whose daughter Sophia attends school in Palm Beach County, Fla, which provides a free breakfast and lunch to all students. "Everyone knows that prices are rising everywhere."
We hear constantly from parents like Carranza who rely on school meals programs - and other programs that help kids get the healthy food they need, like SNAP - to feed their children. That's why we work to support these programs - expanding them to communities that need help and strengthening them so that kids can count on them. 
Effects of Rising Food Prices on Middle-Income Families 
Although middle-income families are adapting to the rise in food costs as best they can, many surveyed families shared they've been skipping meals to make sure their kids are getting enough to eat and making drastic changes to how they feed their children. One in 5 middle-income families reported that they or their children have skipped a meal in the last year due to rising food prices. 
As inflation impacts the cost for other necessities like utilities, gas, rent, and clothes, more families are living one unexpected expense away from hunger. One in two middle-income families say an unexpected car repair or medical bill made it harder to afford enough food for their children.  
"It's a blessing to have support from the school district and from organizations like No Kid Hungry," Carranza said. "The fact that [my kids] are fed is a huge help for them. Not only for their learning, but so they become good people."  
Solutions That Work  
Providing grants to schools and community organizations and advocating for better laws and policies that help families keep food on the table is one of many ways No Kid Hungry ensures kids across America get the healthy food they need to thrive. 
No Kid Hungry also continues to promote and support food assistance programs like school and summer meals, SNAP and WIC, which can be a game-changer for families going through a tough time.
SNAP is one of the best ways to feed kids and the nation's first line of defense against hunger, providing parents and caregivers with a monthly benefit they can use to purchase groceries. It works alongside programs like school meals, where kids can rely on receiving nutrition at school through programs like breakfast, lunch and afterschool meals.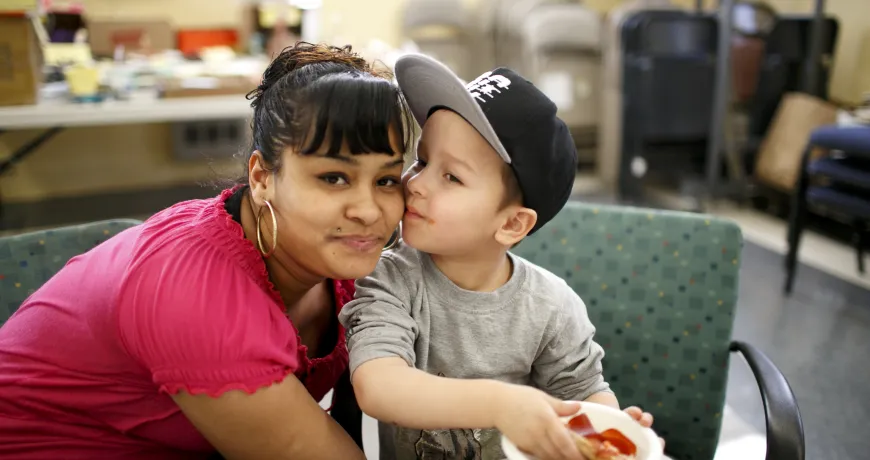 Ways to Give
Donate. Just $10 can help provide up to 100 meals for kids. No Kid Hungry works with schools, community organizations, and local leaders across the country to connect kids to the food they need. Your generous donations will help end summer hunger for kids across the country. 
Take Action. 1 in 8 kids in the United States is affected by hunger. Tell your lawmaker to protect SNAP and other federal nutrition programs that feed kids.
Spread the Word. With school out for the summer, families need help feeding their children. No Kid Hungry runs a texting hotline - just text the word FOOD (or COMIDA) to 304-304 to find free meals sites in your neighborhood.
 
* The survey was conducted by Ipsos earlier this year among 3,000 parents with one or more children attending public school. Half of the respondents were middle-income parents (household income $47,000 to $142,000) and half were low-income parents (household income under $47,000).