In the 2023 Texas legislative session, something extraordinary happened that will impact the lives of thousands of kids in the state.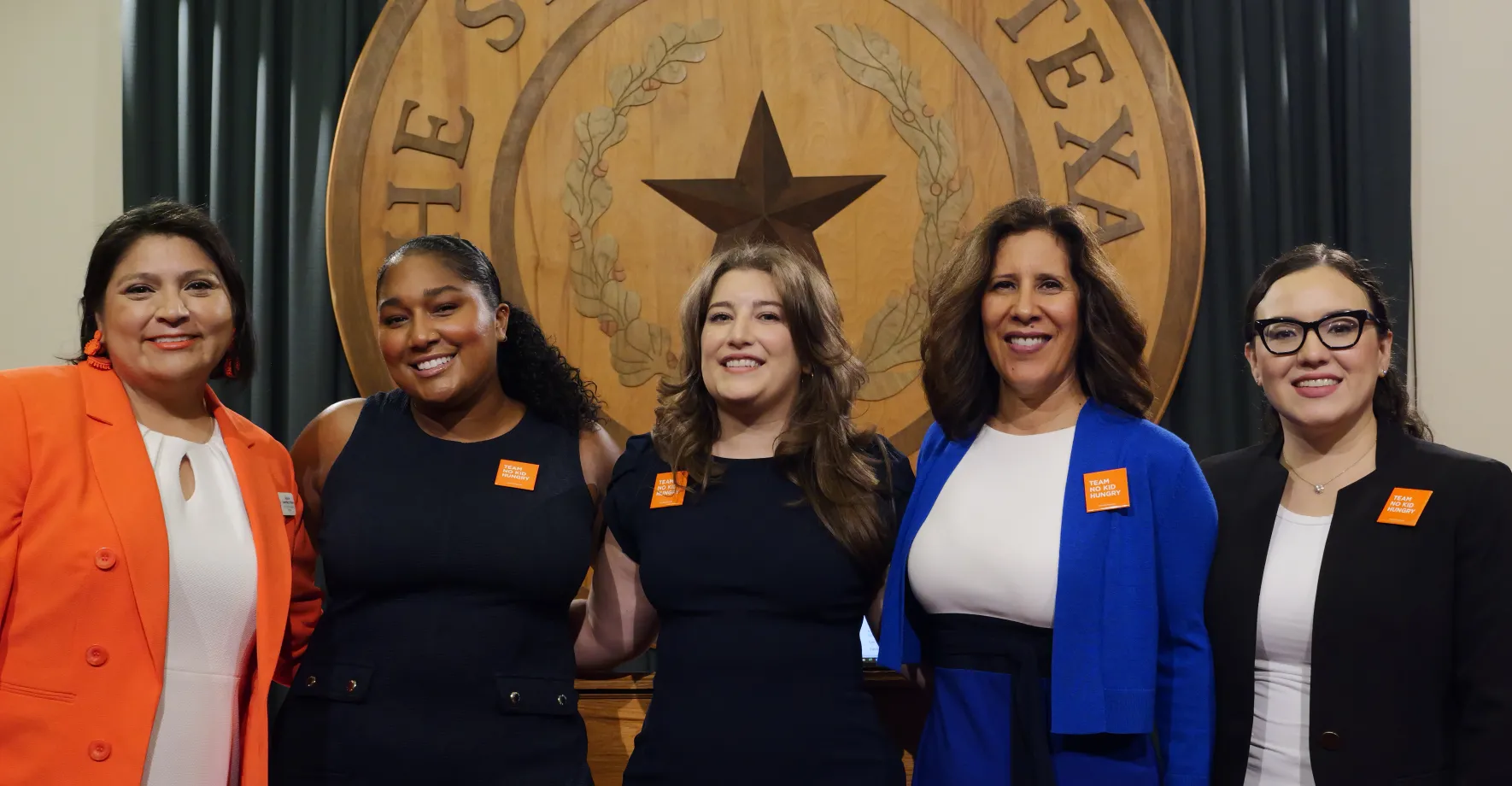 Thanks to the tireless efforts of the No Kid Hungry team in Texas, along with the crucial support of legislative champions Rep. Toni Rose, Rep. Armando Walle and Sen. Judith Zaffirini, an important legislative victory was achieved. The battle to increase access to school breakfast by eliminating reduced-price school meals has been won, and now, all Texas students who are signed up for reduced-price meals will receive breakfast for free over the next two years.
"I am just so excited about this," said Rep. Rose. "One of the reasons I decided to run office what to make sure I made an impact in low-income communities. I'm so honored to be able to partner with No Kid Hungry to be able to accomplish this goal."
I had the privilege of witnessing the incredible work of the No Kid Hungry team in Texas as they tirelessly advocated for this monumental change. They worked hand in hand with child nutrition professionals, superintendents, principals, statewide associations and other stakeholders, building a robust network to raise awareness about the prevalence of childhood hunger and the critical role school meals play in combating it.
The visit to celebrate this momentous victory was not my first time in the state. I have witnessed and listened to the stories of multiple Texas families and school heroes who work so hard to ensure all kids have the meals they need to thrive. This victory is for them.
Earlier in the year, the No Kid Hungry team in Texas conducted a poll that revealed a sobering reality: 73% of Texans were facing increasing challenges in affording groceries, with families of school-aged children being hit particularly hard. Shockingly, 2 in 5 parents reported experiencing food insecurity within the past year.
"Things have gotten so bad that I have had to rely on a food bank for the first time in my life," a parent shared. "It was the only way we could get groceries for our family."
The legislation's passage marked a significant turning point for these families and thousands more who have been struggling to put food on the table. The decision to provide free breakfast meals to nearly 70,000 kids across the state will undoubtedly alleviate the burden on parents and offer a much-needed safety net for Texas students.
"This is huge to this families," shared Candy Biehle, child nutrition director at Smithville ISD. "Even this extra little bit of money that can go towards their home and food budgets will make a huge difference in the lives of kids."
This historic victory was not easily won; it was the culmination of years of collective effort and determination. The No Kid Hungry team in Texas, with the support of donors, worked tirelessly to make the vision of a hunger-free Texas a reality. The crucial collaboration with child nutrition professionals, superintendents, principals and statewide associations helped spread the message far and wide, making Texans aware of the harsh reality of childhood hunger within their state.
As I reflect on this momentous legislative victory, I am filled with hope for the future of Texas kids. Witnessing the dedication of the No Kid Hungry team and their allies in advocating for this change reaffirms the power of collective efforts in tackling societal issues. By eliminating reduced-price school meals and providing free breakfast for thousands of students, we are taking a critical step towards ending childhood hunger in Texas and in the rest of the country.
This triumph is a reminder that when passionate individuals and organizations share their strength, they can create lasting change that impacts the lives of the most vulnerable in society. As we move forward, let us continue to support initiatives that prioritize the well-being of our children and create a country where no child goes hungry. Together, we can build a brighter and more equitable future for the generations to come.
Ways You Can Help:
Donate: 1 dollar can provide up to 10 meals for kids in need. Your support will help us fund meal programs all over the country and help us advocate for policies that will help kids get the meals they need.
Speak up for kids: 1 in 8 kids in the United States is affected by hunger. Tell your lawmaker to protect SNAP and other federal nutrition programs that feed kids.