Contact: Meredith Jorss, mjorss@strength.org 
WASHINGTON, DC — Today, the Mayors Alliance to End Childhood Hunger, a nonpartisan coalition of more than 130 mayors working to ensure every child has the healthy food needed to thrive, announced its new Chair, Mayor John Giles of Mesa, AZ and Vice-Chair, Mayor-President Sharon Weston Broome of Baton Rouge, LA at an event in Washington, DC. 
"No community goes untouched by food insecurity, and every mayor has a role to play in addressing childhood hunger," said Mayor Giles. "Mayors need to be chief food security officers in their communities. I'm honored to be appointed to the role of Chair for the Mayors Alliance and I look forward to continuing to work closely with my fellow mayors to make a difference on this issue."
"Hunger is a solvable issue, a non-partisan issue and one of the most important investments we can make in our next generation," said Mayor-President Sharon Weston Broome. "I look forward to working with Chair Mayor John Giles and more than 130 Mayors across the country on smart solutions to end hunger here in Baton Rouge and in every community across our nation."
Mayor Giles, who first joined the Mayors Alliance as its Vice-Chair in its inaugural year in 2022, also joined a roundtable discussion with U.S. Representatives Glenn 'GT' Thompson (R-PA) and Jim McGovern (D-MA) on the impact of federal legislation like the Farm Bill on local communities and the role of state leaders in the implementation of the strategies from the White House Conference on Hunger, Nutrition and Health. Laura Carroll, Policy Advisor at the White House Domestic Policy Council also addressed the group, providing an update on the White House Conference strategy in the months following the convening. 
Reps. Thompson and McGovern spoke candidly about their priorities for the 2023 Farm Bill and why local leadership plays an integral role.
"Some of the common ground I think we can find [on the Farm Bill] is on nutrition, health and wellbeing. It's the right thing to do to help individuals and families achieve that status, but it also helps in the end in our communities, our states and our nation," said Rep. Thompson, Chairman of the House Agriculture Committee, during today's panel. "Mayors are well prepped to understand the bigger picture impacting families... I ask for mayors to be at the table. We welcome you. We want you. We need your voice."
"My priority on the nutrition section [of the Farm Bill] is to make sure no one screws around with SNAP," said Rep. McGovern. "I want to make sure we don't cut the program." 
"Sometimes the rhetoric in Washington doesn't match the reality on the ground," Rep. McGovern added, encouraging mayors to hold Congress accountable and to lift up the innovative work happening on the local level.
Mayor Eric Adams of New York City, NY also spoke to the group about the critical role mayors play in addressing child hunger in the U.S. 
"Food is the building block of a prosperous life. It depends on your mental health, your physical health, and your academic achievements," said Mayor Adams. "This is so important what my colleagues are doing across America."
In partnership with the nonprofit Share Our Strength and its No Kid Hungry campaign, the Mayors Alliance taps the leadership and collective expertise of more than 130 mayors from across the political spectrum in 45 states and the District of Columbia to drive change at the state and national level.
"Mayoral leadership is integral to the fight against childhood hunger," said Lisa Davis, Senior Vice President at Share Our Strength. "They see first-hand the impact of this crisis in their communities and are uniquely positioned to creatively and successfully build awareness and drive solutions. I'm eager to see how this important work continues to develop this year under the leadership of Mayor Giles and Mayor Broome."
This year, the Mayors Alliance will launch a Policy Council to lead the coalition's public policy and advocacy work. It will also continue its work to elevate the issue of childhood hunger at the local and federal levels, partner with the Biden-Harris Administration on the implementation of the White House Strategy on Hunger, Nutrition and Health, and advocate for effective programs and solutions, especially those that were developed to serve families who were hardest hit during the pandemic. 
For more information about the Mayors Alliance to End Childhood Hunger, please visit www.mayorshungeralliance.org. A recording of the event is available online.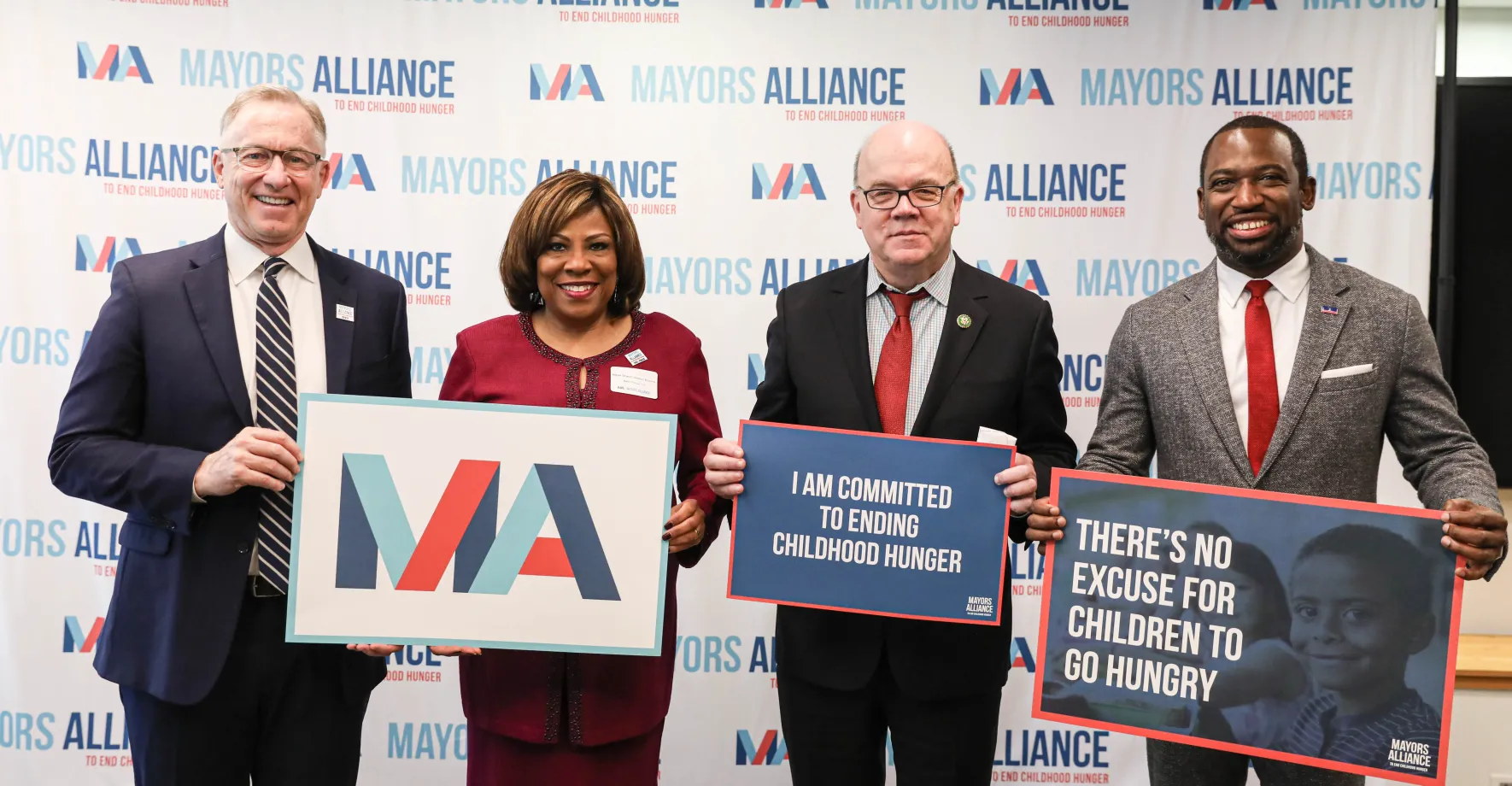 ###
About the Mayors Alliance to End Childhood Hunger
Launched in 2022, the Mayors Alliance to End Childhood Hunger harnesses the individual and collective leadership of mayors to end childhood hunger in communities nationwide. There is no excuse for children to go hungry in our country. Yet it happens – every day, in every community. The Mayors Alliance to End Childhood Hunger is a nonpartisan coalition working in partnership with Share Our Strength's No Kid Hungry campaign to ensure that every child has the healthy food they need to thrive.
About No Kid Hungry
No child should go hungry in America. But millions of kids in the United States live with hunger. No Kid Hungry is working to end childhood hunger by helping launch and improve programs that give all kids the healthy food they need to thrive. This is a problem we know how to solve. No Kid Hungry is a campaign of Share Our Strength, an organization committed to ending hunger and poverty.