With the release of this bill, the following No Kid Hungry experts are available for comment on the substance of this legislation and the role it plays in ending childhood hunger in America.
Duke Storen: Senior Director of Research and Advocacy, Share Our Strength
Lucy Melcher: Associate Director of Advocacy, Share Our Strength
For more information about summer meals and childhood hunger, or to speak to Duke Storen or Lucy Melcher, contact Christy Felling at cfelling@strength.org or 202-320-4483.
Duke Storen Senior Director of Research, Advocacy, and Partner Development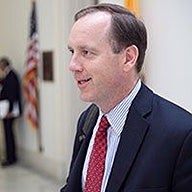 Duke Storen is a national social policy expert with extensive experience researching and managing the implementation of nutrition and anti-poverty programs. Currently, Duke serves as the Senior Director of Research, Advocacy, and Partner Development at Share Our Strength. In this role, he has led seminal research on child nutrition programs and led Share Our Strength's consulting and technical assistance efforts with elected officials, state and local government, local not-for-profit and faith-based organizations.
Before coming to Share Our Strength, Duke worked under two administrations at the USDA leading efforts to improve program access, as well as managing the child nutrition programs. He has also managed program implementation in Virginia and done consulting with state governments on the use of technology to improve program effectiveness, efficiency, and integrity.
Duke also spent a number of years at Rutgers University as a researcher, graduate student, professor, and project manager at the Heldrich Center for Workforce Development. He holds a BA in Social Justice and a MA in Public Policy. Residing in Fredericksburg, VA with his wife and five children, Duke is actively engaged in coaching youth sports and volunteering in his local community.
Lucy Melcher Associate Director, Advocacy

Lucy Melcher is the Associate Director of Advocacy for Share Our Strength's No Kid Hungry campaign. In this role, she oversees the organization's policy and advocacy work, including legislative priorities, grassroots advocacy, and engaging No Kid Hungry supporters to advance policies that connect kids with healthy food, every day.
Prior to joining Share Our Strength, Lucy managed government relations at the American Public Health Organization, working on a range of issues including public health funding and global health. Lucy also worked on Capitol Hill on health policy issues for Senator Jeff Merkley (D-Ore.), and on several issue-based and political campaigns across the country.
Lucy received her BA in political science from American University and her Master's in Public Policy from Duke University.
ABOUT NO KID HUNGRY
No child should go hungry in America, but 1 in 5 kids will face hunger this year. Using proven, practical solutions, No Kid Hungry is ending childhood hunger today by ensuring that kids start the day with a nutritious breakfast, are able to get the nutrition they need during the summertime, and families learn the skills they need to shop and cook on a budget. When we all work together, we can make sure kids get the healthy food they need. No Kid Hungry is a campaign of national anti-hunger organization Share Our Strength.