What Is Face-to-Face Fundraising?
You might see fundraisers representing No Kid Hungry on a street corner in your local area or going door-to-door in your neighborhood. These are our face-to-face canvassers in action. No Kid Hungry partners with trusted professional canvassing agencies to raise awareness and crucial funds on our behalf so we can connect more kids across America with the nutritious food they need to grow and thrive. Face-to-face fundraising (or canvassing) is one of the most effective ways for us to connect with supporters in a personal and engaging way. This allows canvassers to have one-on-one conversations about our work and the benefits of regular monthly gifts. 
How Can I Identify a No Kid Hungry Fundraiser?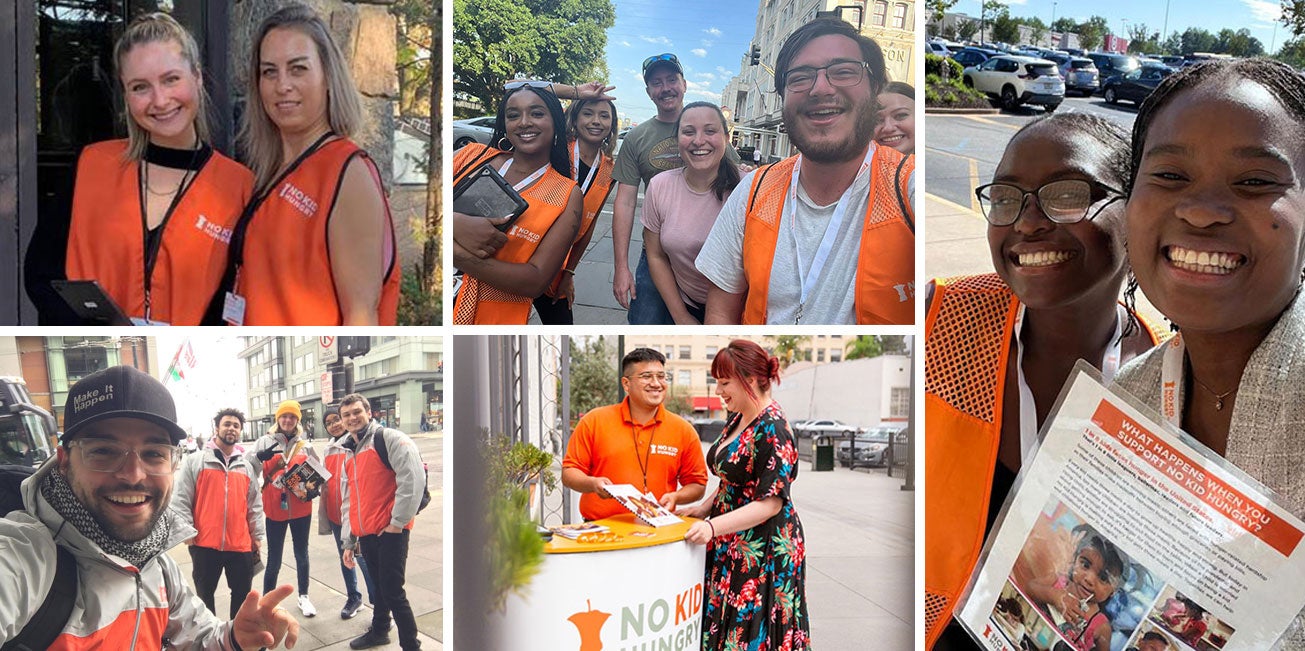 Canvassers are easily identified by their No Kid Hungry branded orange or black lanyard and photo ID badge and will often be wearing a branded vest, shirt, or jacket. Canvassers carry No Kid Hungry branded materials, as well as a tablet to collect payment information in an encrypted and secure way. They will also have extensive knowledge of our programs and how recurring or monthly gifts help make a difference for kids. No Kid Hungry fundraisers do not accept cash gifts for their safety and yours. 
Our Partners and Locations 
No Kid Hungry partners with three canvassing agencies, Ascenta Group, Personal Fundraising Services, and Global Faces Direct. We are actively canvassing in the following cities, but we often do road trips to various locations for short times as well.

Atlanta, Ga.
Raleigh, N.C.
Denver, Colo.
Ft. Worth, Texas
Philadelphia, Pa.
Why Is Monthly Giving Important?
While every gift to the No Kid Hungry campaign adds up to make a big difference, our canvassers focus on collecting monthly donations. This ensures we're using donor dollars wisely and reaching as many kids as possible through these efforts.  Monthly gifts provide the steady, reliable support we need to help kids get three meals a day, every day – enabling us to invest in programs that can end childhood hunger for good. By giving monthly, you also save time and effort and help reduce our administrative costs. That means you can help us devote even more resources to feeding kids. 
$1 can help provide 10 healthy meals*. That means a $30 gift can help provide 300 meals, so imagine the incredible impact you can have every month and all year for hungry kids!
If you'd like to make a monthly gift, click here to sign up. Thank you!   
How Do I Make Changes to My Gift?
We understand that financial situations can change at any moment. As a recurring donor, you have the option to make smaller, more manageable gifts that still have a significant impact over time. No matter the amount, your recurring donation helps us feed kids across America. You can update, pause, or cancel your gift at any time by contacting our Donor Services team at 1-800-222-1767 or info@strength.org
Donor Services Line:
Have additional questions? Contact our donor services team at: