Today, millions of kids are facing the hungriest holiday season in memory. No Kid Hungry convened a panel of experts to explore the unprecedented challenges facing families this winter and our urgent need to provide relief - an opportunity that is slipping away.
As the panel, led by James Beard award-winning chef and author Kwame Onwauchi, discussed, the need is enormous. 
"We're facing levels of child hunger that are unprecedented in recent decades," said Lisa Davis, senior vice president of Share Our Strength's No Kid Hungry campaign, "It's particularly heartbreaking because before COVID hit, we were on a pathway to end childhood hunger and had seen remarkable progress over the last several years, all of which was undone in just a matter of months."
We've all seen long lines at food banks, schools and churches. Now, for many regions across the country, the looming cold weather months pose new challenges for those on the frontlines of feeding kids and for the families in need seeking help. 
For schools and community organizations, one of the safest ways to serve meals during the pandemic has been to move services outside. Cold temperatures, snow and other extreme weather conditions will make this more difficult, threatening their ability to serve meals and keep staff and families safe. 
For families facing hardship and hunger, the winter holidays will be a challenging time, as school meals may disappear over winter break at the same time families are stretching their limited budget to make holiday meals, buy gifts and pay utility bills that are higher in cold weather. 
 
This year, the challenges they're facing go much deeper. We're in the midst of an economic crisis that is hitting low-income families the hardest, yet many federal benefits programs designed to help them through this crisis are about to expire. 
"As bad as things are right now, we're on the precipice of them becoming exponentially worse," said Davis. "If Congress takes no action, we know that unemployment benefits for about 12 million people will expire in December. The moratorium on evictions is also slated to expire. Even in a good year, December and the winter months are harder on struggling families because the weather gets worse, their energy costs go up, with schools closed it can be harder for them to access the food that their families need." 
This will have devastating consequences. Every time you take a resource away from a struggling family, you put them one step closer to hunger. That's because food budgets are often the easiest to dip into.
"Hunger affects the whole entire family. It could be any one of us going through this, whether you lose your job or find yourself in a position where you have to choose whether you have to pay rent or pay your utilities or provide food for yourself or your family," said Michelle (Shelly) Rogers, a parent and community advocate. 
"Hunger is more expansive than just food," she added. "It was emotionally traumatic for me when I lost my job. I was devastated when I looked into my account and realized that I didn't have money to purchase food, not only for myself, for my daughter also. Not being able to provide made me feel ashamed and powerless. Anyone as a parent can understand how that could cause a ripple effect of stress on someone's life."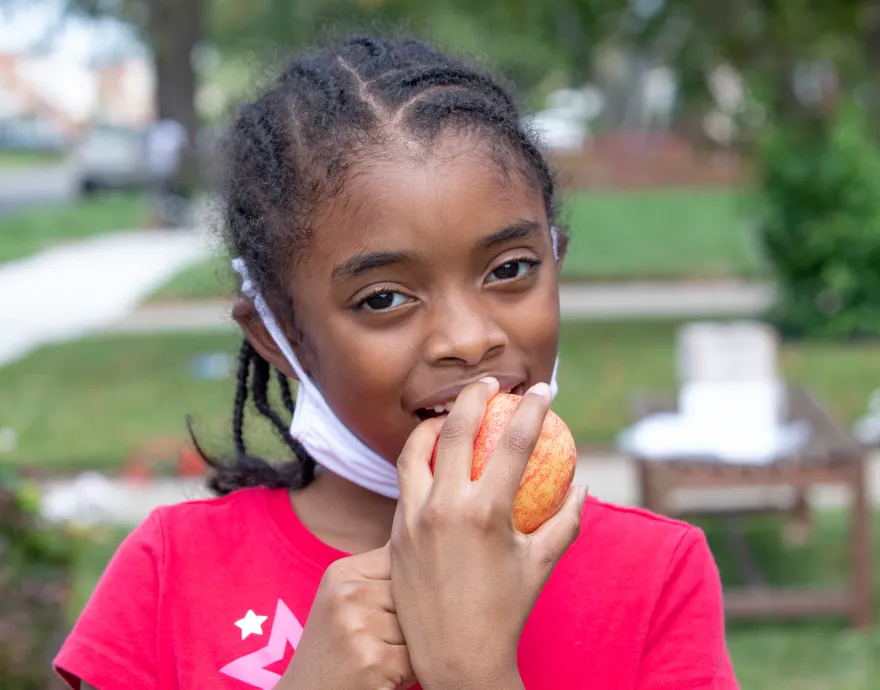 "If you are not getting healthy meals you are going to struggle academically," said Dr. John B. King Jr, president and CEO of The Education Trust and former U.S. Secretary of Education under President Obama. "We know from decades of research that kids who are food insecure do less well on measures of academic achievement. There's tremendous stress - socio and emotional stress - associated with food insecurity. And that has a negative effect on kids' wellbeing, makes it more likely they'll drop out of school, makes it less likely that they will participate fully in the educational experience."
Gay Anderson, child nutrition director for Brandon Valley School District in South Dakota, added: "Kids can't learn if they're hungry. Kids are scared when they're hungry. If you want to see what a hungry child looks like, come to a school district any Monday and watch how they eat and how much more food they consume on Mondays because they have not had all the food that they needed over the weekend." 
It's an issue close to Onwuachi's heart. 
"It also has an effect on mental health. Especially from a child's perspective. Why is this happening to me? Why are my other friends okay? Why do they have sneakers and they can afford to get lunch and I can't do either of the two?" Onwuachi recalled. "And that affects childrens' confidence growing up as well. I know as a parent it's really hard to see that and feel slightly powerless and I think that's why we need more legislation and we need help." 
Despite the staggering rates of hunger, it remains a problem we can actually fix. School meals and the charitable food system just can't do it alone. Federal nutrition programs like the Supplemental Nutrition Assistance Program (SNAP) are essential to feeding children in need. However, the need is too vast and benefits are too low. 
"Imagine trying to provide a well balanced nutritious meal for a family with $15 a month, and that's when I had the SNAP benefits," said Rogers.
To make sure kids get the food they need during this pandemic, Congress should pass legislation that temporarily increases SNAP benefits. 
"This can't be solved through philanthropy alone. This isn't something that can just be solved by food banks and the hard work of educators," added Dr. King. "This is something that needs a public policy solution and that's why it's so urgent that Congress take the steps necessary to increase SNAP benefits, to extend unemployment insurance and to move us towards the kind of economic recovery that will make sure that families can get their kids the food they need. We have the resources as a country. This is a question of do we have the will to make sure that no one goes hungry."
The bottom line: Kids do not need to be hungry. If they continue to experience hunger at this level during the pandemic, it's because we, as a nation, let that happen. 
"We talk a lot about the cost of legislation. What we don't talk about enough are the costs of not taking action," said Davis. "I worry a lot that we will have a lost generation of kids if we do not come together and really make sure we're addressing this fully and robustly. And that starts with increasing SNAP benefits and making sure families have the resources to buy food." 
If you'd like to make your voice heard on this issue, write to your Members of Congress and urge them to pass legislation that increases SNAP benefits during this crisis. 
As Onwuachi pointed out: "If we band together and work together as a community and take care of one another, the sky's the limit and the possibilities are endless."