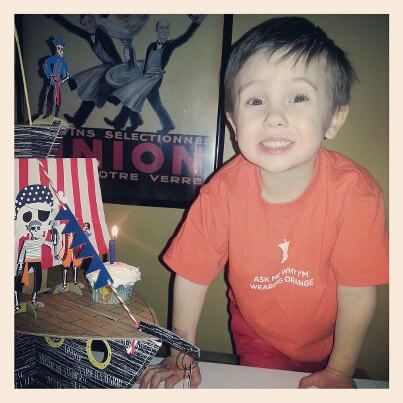 As a member of the Share Our Strength staff, there is something very special about waking up in the morning knowing that I'm going to dedicate my day to helping feed our nation's children. It's an honor that compels me to share our mission to end childhood hunger in America with those I love. And so, it seems a natural fit for me to discuss our obligation, as a nation, to help the helpless with my very spirited, extremely loving 4-year-old son, Dylan.

For those who know Dylan, I think they would describe him as funny, smart and bursting with energy. As his mother, naturally these are my sentiments as well, but I've been extremely touched by the way he's compelled to help others – even at such a young age. He once spent over 30 minutes trying to convince me to help him build a house and make soup for a homeless man he encountered sleeping on the street. And he is very proud to wear his "ASK ME WHY I'M WEARING ORANGE" No Kid Hungry t-shirt so that he can declare "No Kid Hungry" to the world!

In my home, we all strongly believe that no child in America should grow up hungry – so we decided to dedicate Dylan's 4th birthday to raising funds for No Kid Hungry, using Share Our Strength's turn-key No Kid Hungry fundraising tools.
So here's how it went down…I spent about 15 minutes setting up Dylan's No Kid Hungry Birthday Fundraiser, 10 minutes writing a message to close friends and family asking for their support, another 5 writing a message to his classmates asking them to donate in lieu of gifts at his upcoming pirate party and 3 minutes posting about it on Facebook. All in all, it took me slightly more than 30 minutes. That 30 minutes went a long way -- in only 2 weeks, Dylan has raised $875.00!
I could not believe how many of my close friends, colleagues, old friends and unexpected others contributed. I even had a gal from my high school German class contribute thanks to that Facebook post – and we haven't spoken in 18 years! It was easy for me to set up and easy for them give, but I am still so touched by everyone's incredible generosity!
For all those who contributed, Dylan wants you to know that he is so thankful that you joined him in the fight to end childhood hunger in America. We filmed this quick video just for you.
Many thanks from the bottom of his precious little heart and of course from mine as well,
Carla & Dylan Warner