Chefs & Culinary, Cooking Matters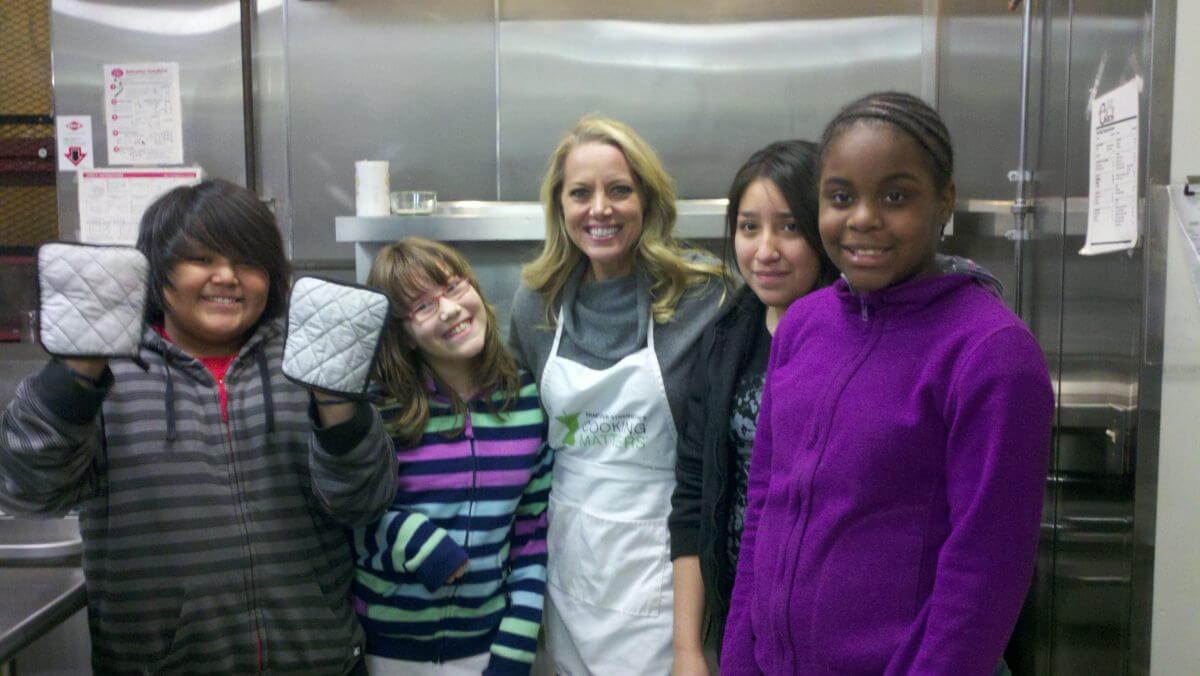 On a recent trip to Chicago, I had a few hours in my schedule that were, well, unscheduled. Share Our Strength and No Kid Hungry are causes I care deeply about, having experienced food insecurity myself as a young child. When I was in grammar school, the receptionist at the principal's office noticed how often I "forgot" my lunch, and she connected me with a free lunch program. I'm sure I was just a passing thought to her, but her impact has stayed in my heart over all these years.
Last week, I thought I knew what to expect at the Cooking Matters class I was going to attend: well-intentioned volunteers who put on a smile, even if the face of a blustery 9-degree night. I imagined dry nutrition lessons, and weary-faced families fidgeting and patiently trying to follow along. I figured that most families would stay home, given the bitter cold (even Chicagoans were complaining). I'll admit, I was tempted myself to snuggle up into my bed, order room service and catch the latest episode of Restaurant Impossible. Instead, I went… into a night of surprises.
Surprises:
Upbeat and happy
The energy was light, fun, energetic. An organic joy filled the room. The parents and kids poked a bit of fun at one another, and the (bi-lingual) children cheerfully helped the nutritionist-turned-pseudo-translator along with her Spanish skills. A 13-year-old boy named Tony, one of the participants, had such a spark and passion for cooking that the class all dubbed him Chef Tony Jr. And he played every bit the role, answering the culinary questions, talking about the stir-fry he had made for his large family the previous week. He helped the younger and more timid kids whisk the béchamel, add the cheese, toss the pasta.
Simple, but sophisticated
The class rolled out more like a Williams Sonoma cooking class than a "this will be good for you" seminar. The recipes were healthy and simple and elegant. On the night we went, the families learned about roux and how to make a béchamel sauce for a homemade healthy mac and cheese. Everything was completely doable at home, but no "dumbing it down" here.
Tasty first
While Cooking Matters targets lower income participants, the class didn't lead with money; it lead with delicious. Sure, budget pointers were peppered throughout the curriculum, but this was a class that primarily celebrated the joy in making nourishing and delicious foods for our families. I believe many of the best family meals come from humble ingredients treated well, such as the whole grain pasta, milk, flour, cheese and broccoli we used in class. (A bonus surprise: the participants all took home a grocery bag filled with the ingredients to make the recipe, in order to make venturing out into new territory "risk-free" for the participants. Smart.)
Best practices, in practice
The curriculum was incredibly well done – a perfect balance of information, hands-on cooking, and fun. Even the nutrition segments had everyone engaged. For instance, instead of preaching the ills of fast food, they played "blubber burger" where the kids "ordered" from a fast food menu and then measured out in shortening the number of fat grams that they had ordered and spread it on a hamburger bun. (Truly a visual way to encourage families to keep the fast food for an occasional treat.)
Where do I sign up?
Biggest surprise of the night: how much I loved it, and wanted to return. Even in that weather.
---
Share Our Strength's Cooking Matters empowers families at risk of hunger to stretch their money by shopping for and cooking healthy meals on a budget. Cooking Matters, part of the No Kid Hungry campaign, is nationally sponsored by the ConAgra Foods Foundation and Walmart.
For more information on Cooking Matters, visit www.cookingmatters.org