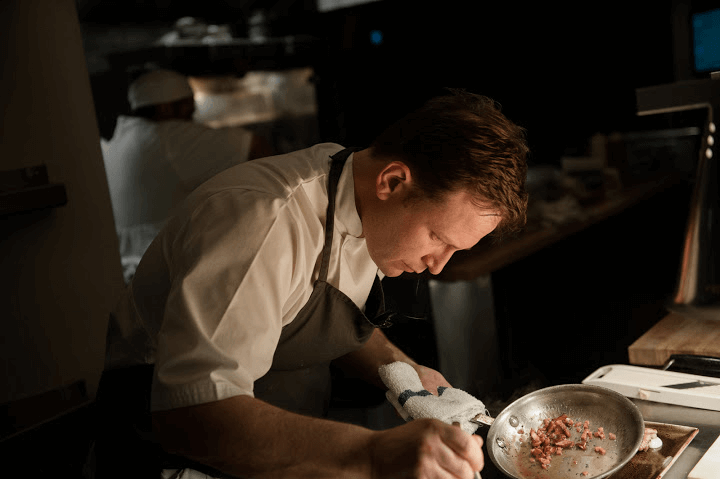 Chefs are the backbone of so much of the work we do. Whether it's culinary events that raise critical funds, our nutrition education programs that teach low-income families how to shop and eat on a budget, or even lobbying on Capitol Hill on behalf of hungry kids, chefs are some of our most dedicated volunteers and advocates.
We want to introduce our community to more of these chefs, so we're starting an ongoing interview series that features these chef advocates. The next in our series is Matt Hill of Washington, DC. Chef Hill has been a long-time advocate for our work, participating in countless fundraising events including the upcoming No Kid Hungry Washington, DC Dinneron June 12th.
How did you become involved in Share Our Strength?
It started in 1999 at Taste of the Nation in New York City. Working with Charlie Palmer and his commitment to the organization has played a big role.
Why is ending childhood hunger important?
As chefs, we often are subject to so much excess of food that it seems absurd that a child living in the US could go hungry. I feel that I have gained a lot of culinary perspective and privileges in this business that I owe it to children to give back.
You are hosting Share Our Strength's annual No Kid Hungry in Washington, DC, now as the host chef for the 4th year. Are there any moments from past dinners that stand out?
There isn't a single event that stands out, but working with such talented chefs over the years for a common good is inspiring. Every single year we bring together an impressive group of chefs [for the No Kid Hungry Dinner in Washington, DC] and not only is it a fun opportunity to collaborate with them, but also a rewarding experience to know that in the restaurant that night we are doing more than just cooking dinner.
What is your favorite aspect of being a chef?
There is a new challenge every day.
Least favorite aspect?
Working on holidays instead of being with your family.
Chefs know more about feeding people than just about anyone. What is the secret to preparing a satisfying meal?
I always put myself in the diner's shoes. It maybe a little selfish, but I really try to conceptualize the taste of a dish and try to make things that I love.
What is your most memorable experience in a kitchen?
Holding a ladder for Charlie Palmer in the kitchen at Aureole while he was trying to fix the leaking roof. When he got to the top I asked him for a job. He pretty much had to give it to me at that point.
What has been your most humbling experience in a kitchen?
Running out of Mise en Place at Aureole in the early days. The chef — and even my buddies — gave me a hard time about that.
If you were stuck on an island, what would you try to cook? And what 3 ingredients would you bring with you?
Corn: so versatile, you can make anything from bread to whiskey. Sherry vinegar: I have to have it, and of course a whole pig. Hopefully I would also be able to take advantage of all the native species as well.
What chefs do you admire?
Charlie Palmer, Bryan Voltaggio, Marco Canora, and Sean Brock
What do you want people to know about childhood hunger in America?
I think that most people have no clue of the extent of the problem. Just the simple statistical facts on food insecure children would be a wakeup call to most of America.
If you had free reign to reform school food, what would you do?
I think that as difficult and cost prohibitive as it would be, processed foods should be totally eliminated. Investing in these children's future and the future of the US should be a priority in this nation.
CHEF SPOTLIGHT SERIES:
—Click here to read our other chef spotlights.