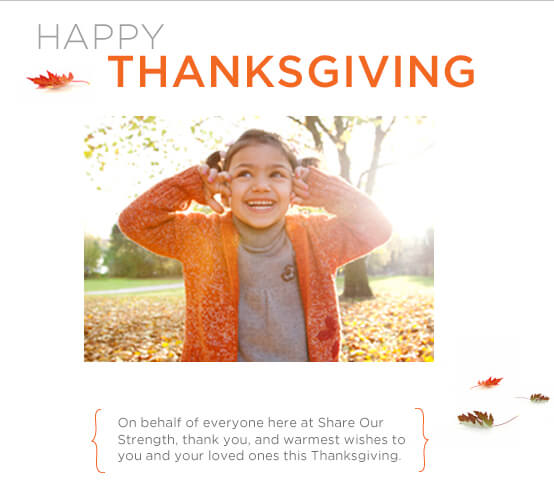 Hardly a day goes by without a message like this one from Orange County Public Schools in Orlando, Florida:
Thank you for your grant to fund a new educational tutoring and breakfast program at Eagles Nest Elementary School. The increased access to breakfast programs and specialized tutoring has helped to fight obesity, raised test scores and improved the overall health of students. Eagles Nest Elementary school's grade went from a C to an A last year when this program was instituted. Thank you!
They're not thankful for what I've done — they're thankful for what you've done through your support of the No Kid Hungry campaign. This Thanksgiving, and every day of the year, your support helps us bring more kids to the No Kid Hungry table for breakfast, after school snacks, food in the summer and healthier meals at home. That's something for all of us to celebrate this Thanksgiving as we gather with our friends and loved ones.

On behalf of our staff and the No Kid Hungry network, thank you and warmest wishes to you and your loved ones this Thanksgiving.