Ted's Montana Grill
---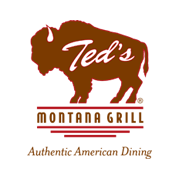 To commemorate the 10th anniversary of Ted's Montana Grill restaurants, the company has made a historic pledge to raise $150,000 in 2012 for Share Our Strength's No Kid Hungry campaign to help end childhood hunger in America.
"Ten years ago when we first opened our doors, we set out to create a restaurant experience that captured the spirit and hospitality of the Great American West," said Ted's Montana Grill co-founder George McKerrow, who also serves as the company's CEO. "As our 10th anniversary neared, we wanted to share our 'Big Sky Spirit' by celebrating in a really special way, and do something that would have a lasting impact on future generations. We found the ideal partner in No Kid Hungry, a cause we've supported in smaller ways for the last several years."
The No Kid Hungry fundraising efforts will take place in Ted's Montana Grill restaurants several times throughout the year, including a promotion in early April, during the summer and throughout September. Learn more about Ted's Montana Grill and its commitment to ending childhood hunger at TedsMontanaGrill.com.